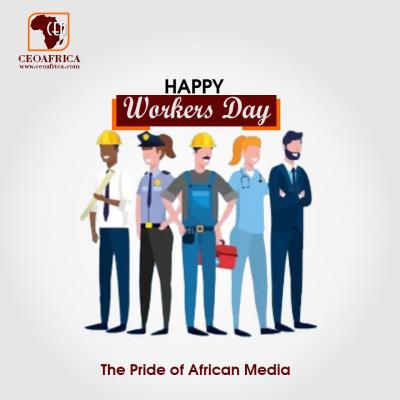 Happy Workers' Day to our readers, viewers all over the world
By:
Sat, 1 May 2021 || Nigeria,
We at CEOAFRICA join the world to celebrate the International Workers' Day.
The International Workers' Day which is also known as International Labour Day or May Day, is specially celebrated on every May 1st to acknowledge the achievements of all workers and their efforts towards building a better world.
May Day is also dedicated to workers and labourers across the globe to create awareness of their rights and enlighten them on risk minimisation and safety management in their various works .    
The International Labour Organization, a United Nations agency, which works towards setting international labour standards, stated in a report released on World Day for Safety and Health at Work that ''Countries need to put in place sound and resilient occupational safety and health systems that would minimize the risks for everyone in the world of work in the event of future health emergencies.'' This shows how the health and safety of every worker is important and shouldn't be taken for granted.
Labour Day is celebrated in over 80 different countries across the world.
On this note, CEOAFRICA celebrates all the workers for their achievements and efforts in making life worth living.
May you eat the fruit of your labour.
Back to News