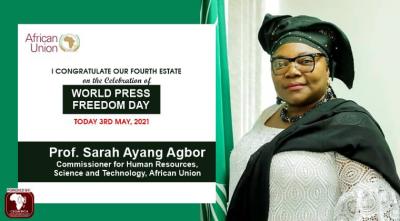 World Press Freedom Day: AU Commissioner, Prof Agbor joins world leaders to eulogize Press
By:
Tue, 4 May 2021 || Nigeria,
The African Union Commissioner for Education, Science, Technology and Innovation (formerly Human Resources, Science), Prof. Sarah Anyang Agbor, has joined her voice with other world leaders to eulogise the press on the occasion of the World Press Freedom Day. 
Having had a stint in print and electronic media in her earlier years, she believes that the media is the conscience of the society and if properly utilized can act as a springboard to sustainable development. But it can only be the conscience of the society if journalists and media stakeholders can be objective, transparent, and committed to transparent journalism. 
She noted that governments and international organizations need to open up to make media freedom, a priority when dealing with African states.
Her Excellency made this remark in a statement to commemorate the 2021 World Press Freedom Day.
Prof Agbor implored governmental institutions across Africa to put in place legislations that are capable of aiding the freedom of press as it is an essential element of democracy.
According to her, "African content producers must shoulder a measure of responsibility for doing better as shoddy reporting fuelled by extreme partisanship erodes public confidence in the media."
The African Union Commissioner then congratulated members of the press in Africa and the world at large for their efforts in the sustainable development of their nations.
She advised that in line with the African Union declaration of 2021 as Year of Arts, Culture and Heritage, members of the press should put to good use their tools and utilize it as a medium for the promotion of the African Cultural Heritage.
Prof. Agbor revealed that freedoms of expression and press are often recognized as preconditions for democracy and development and "provisions are made for these rights in the 1948 Universal Declaration of Human Rights and the 1986 African Charter for Human and Peoples' Rights".
She noted that the World Press Freedom Day is a day set aside to celebrate the fundamental principles of press freedom, defend the media from attacks and pay tribute to journalists who have lost their lives in the line of duty.
In her words, "Freedom of Press is very germane to the development of a nation  and it is the legal underpinning which allows people to access information about current events and matters of public interest whether that's from large media companies, local newspapers, or from each other through citizen journalism and social media."
"When freedom of expression is respected and recognized, the media are able to freely report on politics, economics, and societal events as they occur.
 By sharing knowledge and sparking debate, a free press invigorates and educates the nation's citizens. Freedom will be "a short-lived possession" unless the people are informed," She added.
It would be recalled that every 3rd of May marks the World Press Freedom Day as proclaimed by the UN General Assembly in December 1993, following the recommendation of UNESCO';s General Conference.
Back to News