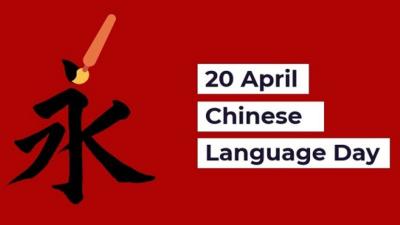 April 20th: United Nations Celebrates Chinese Language Day
By:
Tue, 20 Apr 2021 || Nigeria,
More than one billion people speak Chinese as their first language; that's more than any other population in the world! The United Nations Educational, Scientific and Cultural Organization (UNESCO) first created Chinese Language Day in 2010 to celebrate Chinese as one of the six official languages of the United Nations. These languages include Arabic, Chinese, English, French, Russian and Spanish.  And Chinese Language Day has since been observed on April 20th of every year.
Language Days at the United Nations seek to celebrate multilingualism and cultural diversity as well as to promote equal use of all six official languages throughout the Organization. Under this initiative, UN duty stations around the globe celebrate six separate days, each dedicated to one of the Organization's six official languages.
The date for the Chinese day was selected from Guyu ("Rain of Millet"), which is the 6th of 24 solar terms in the traditional East Asian calendars, to pay tribute to Cangjie.
Cangjie is a very important mythical figure in ancient China, claimed to be an official historian of the Yellow Emperor and the inventor of Chinese characters (alphabets). Legend has it that he had four eyes and four pupils, and that when he invented the characters, the deities and ghosts cried and the sky rained millet. From then on, Chinese people celebrate the day "Guyu", in honour of Cangjie around April 20th of each year.
In early years, Chinese was not commonly used in the work of the United Nations but it was established as an official language of the United Nations in 1946. The situation however improved after restoration of the lawful rights of the People's Republic of China in the United Nations in 1971. In 1973, the General Assembly included Chinese as a working language, which was followed by the Security Council in 1974. Since then, more and more UN offices and staff members work with Chinese language.
About 1.3 billion of the world's Population speak some form of Chinese as their first language; ranking it number one in the world. Varieties of Chinese are usually perceived by native speakers as dialects of a single Chinese language. However, Standard Chinese also known as Mandarin is the official and standardized form of language spoken in the largest part of mainland China and Taiwan. It's also an official idiom of the United Nations.
With this celebration, the UN aim to educate people around the world about the history of the Chinese language and the benefits associated with learning it.
Thus, the UN and its affiliate organisations often hold events that showcase the beauty and rich cultural history of the Chinese language on this day. Workshops and seminars featuring prominent Chinese authors, poets, and calligraphers are not left behind. While concerts featuring Chinese music, martial arts performances, and calligraphy exhibitions are held around the world.
Back to News