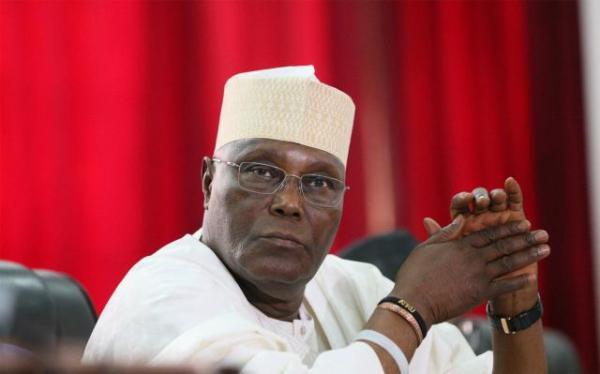 Wike too cowardly to sell Tinubu- Atiku
By: Abara Blessing Oluchi
Tue, 21 Feb 2023 || Nigeria,
The Presidential candidate of the Peoples Democratic Party (PDP), Atiku Abubakar has said that Governor Nyesom Wike of Rivers State is too cowardly to come out openly to sell the candidacy of All Progressives Congress candidate, Bola Tinubu.
Atiku, in a statement by his Special Assistant on Public Communications Mr. Phrank Shaibu, said Wike could not deliver his polling unit at unit 7, ward 9 in Obio/Akpor local government area of Rivers State.
Reacting to Wike's jibes over the cancellation of Atiku's presidential rally in his state, the former Vice President said that Wike is not man enough to come out bodly to ask the people of the state to vote for Bola Tinubu.
He said: "Even the dead know that the APC can never win in Rivers State. Wike cannot deliver his polling unit to Tinubu. He is aware of this and that is why he is not bold enough to come out with his full chest to ask the people of the state to vote for Bola Tinubu. Rather, he is chasing shadows, making innuendos.
"At least Rotimi Amaechi was man enough to dump the PDP and defect to the APC in 2015 and openly campaigned for President Muhammadu Buhari against his kinsman, President Goodluck Jonathan. This is what real men do when they have the conviction. Wike said he would announce his preferred candidate in January 2023. Three weeks have since passed but he is not man enough to do so."
Atiku said Wike was a con man who, on the surface, presents a façade of courage but is actually a lily-livered and small minded person hence his resort to the judiciary to protect him from being expelled from the PDP.
"Wike said if the PDP leadership had the balls, they should expel him. After making this statement, he quickly ran to a court to secure a kangaroo order barring the PDP from suspending or expelling him. This is a chicken hiding under the costume of a lion," he said.
Atiku said Wike's only strategy was to give some miscreants money to foment violence on the day of election in order to suppress the voter turnout and mitigate Tinubu's loss.
He said Rivers had become the most volatile state during elections since Wike began running for office, adding, "even during the 2019 election, Rivers State witnessed the highest incidents of violence. This time again, Rivers has witnessed more violence than terror-ravaged communities in Somalia.
Atiku called on the Nigeria Police Force, the military and other agencies of government to give special attention to Rivers State by deploying additional boots on the ground that will boost the security of Rivers State during and after elections.
"Wike has made it difficult for anyone he doesn't like to campaign in the state. If people cannot campaign, it is unlikely that he will allow them to vote. For this reason, we call on the military and the police to send additional men on the ground in Rivers State to secure this election," he said.
Atiku described as balderdash Wike's claim that he was working for the fairness and the unity of Nigeria, adding that his grouse with the PDP has nothing to do with zoning or justice but the weeping of a "full grown baby throwing tantrums after failing to secure his party's ticket."
The former Vice President said if Wike truly believed in fairness in politics, he would not have contested for governorship in 2015.
He said: "Rivers State has about 26 ethnic groups. Amaechi, an Ikwere man, served eight years as governor. There had been clamours for him to be succeeded by someone from the riverine community but Wike, who is also Ikwere, insisted on succeeding Amaechi, arguing that he was the only one strong enough to defeat him.
"Today, the leadership of the PDP has picked Atiku Abubakar as the most popular candidate to defeat the ruling APC. However, Wike has suddenly remembered his own sense of justice because it doesn't favour him.
"Wike and justice should not be mentioned in the same statement. This is a man that has crushed dissent in his state, running Rivers like a dictator. He arrests people that don't share his view, demolishes their buildings or revokes their land papers, and even desecrates traditional rulers. Wike is injustice personified.
"Wike should be ashamed that after he had openly denigrated the APC has a cancerous political party, which he can never be part of, is the same Wike, who is not only embracing the cancer called APC timidly but also promoting the candidate of the APC, Bola Tinubu – a man who should not be on the ballot in the first place."
Back to News