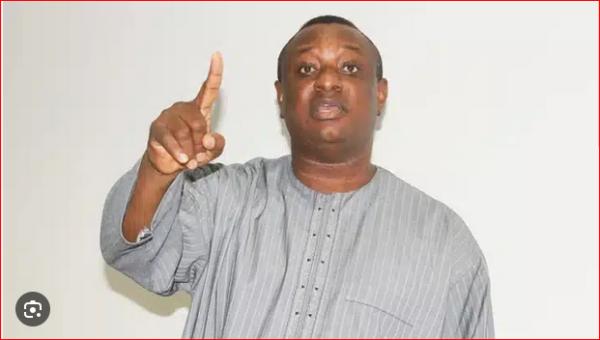 Time for them to have sense, embrace Tinubu's govt — Keyamo
By: Abara Blessing Oluchi
Thu, 7 Sep 2023 || Nigeria,
The Minister of Aviation and Aerospace Development, Festus Keyamo, has congratulated President Bola Tinubu "for this judicial vindication", and hit out at the opposition, urging them to "have sense" and embrace Tinubu's government.
Keyamo's reaction is coming on the heels of the Presidential Election Petition Tribunal ruling that upheld Tinubu's victory at the February 25, 2023 presidential election.
The PEPT ruled that the petition filed by Atiku Abubakar of Peoples Democratic Party, PDP, and Peter Obi of Labour Party, and their respective parties had no merit.
The five-member panel took turns to dismiss the petitions and unanimously upheld Tinubu's electoral victory.
Chairman of the tribunal was Justice Haruna Tsammani; members were Justices Stephen Adah, Monsurat Bolaji-Yusuf, Moses Ugo and Abba Mohammed.
Reacting to the verdict on his X (Twitter) page, Keyamo said: "Today, Daniel has come to judgment:
"Whether it is the fake US drug issue or the 25% FCT issue or the issue of IREV, EVERY SINGLE thing some of us have always shouted ourselves hoarse about during the campaigns and post-campaigns have been PROVED ABSOLUTELY RIGHT.
"It only reassures some of us to always stand up for what we believe in, even if it appears to be against the temporary tide!
"Eventually, posterity will always vindicate the just! Huge congratulations to @officialABAT (President Bola Tinubu) for this judicial vindication from all the wicked lies against his person.
"Now, it is time for them to have some sense and embrace his government and national reconciliation!"
Meanwhile, the opposition candidates Atiku and Obi, and their parties all rejected the verdict.
PDP said: "Indeed, the judgment is generous in technicalities and very short in delivering substantial justice in the matter."
For Peter Obi, "If we are not careful, our electoral jurisprudence will eventually disappear.
"I am saying this with every amount of sincerity because when the litigant, when those that contested the election, continue to find it very difficult to establish their case due to obstacles on the way, starting by INEC, certainly they may resort to some other means of trying to get justice, which may not be lawful.
Back to News