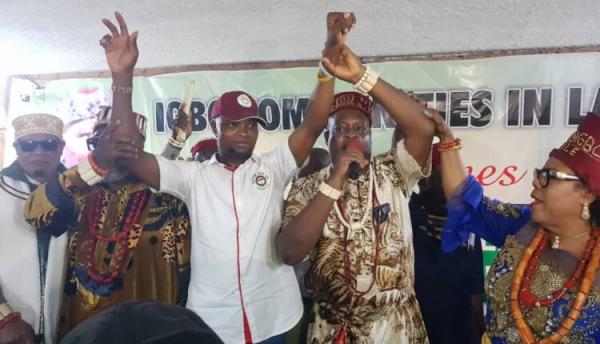 Lagos Guber Poll: Igbo Community in Lagos endorses Jandor
By: Cletus Sunday Ilobanafor
Sat, 4 Mar 2023 || Nigeria,
The Igbo community in Lagos State has endorsed Dr. Abdul Azeez Olajide Adediran, popularly called Jandor and the Peoples Democratic Party (PDP) governorship candidate in Lagos as their preferred candidate for the Saturday, March 11, 2023 election.
At an endorsement parley that witnessed a large turnout of Igbo residents in Lagos, the PDP gubernatorial candidate Dr. Adediran was officially endorsed by the council of Eze Ndigbo and Igbo Communities.
The Eze of Ikorodu David Nwosu who officiated the endorsement noted that it was a decision of the council of Eze Ndigbo and the entire members of Ndigbo in Lagos State to endorse Dr. Adediran.
"On behalf of the council of Eze Ndigbo and Igbo Community, ai hereby endorse Dr. Abdul Azeez Olajide Adediran as our preferred candidate for the Saturday governorship election".
Responding to the honour done him by the Igbo community, Dr. Adediran gave a trajectory of his relationship with the Igbo community, noting that any group of people bringing prosperity in a state deserves ease of doing business not otherwise.
"I Congratulate Ndigbo. Tell all of us that this battle is of the lord by this time next week we are celebrating our victory.
"By this time next week all of us will be out of bad government, that will not let us breath on the roads and markets.
The government releasing thugs to create unrest, will put an end to them.
Jsndir added, "Make no mistake this Jandor standing before you, put out the votes I am ready to protect them.
"Whatever has happened in the centre is inconsequential we are taking our Lagos back.
"Your contributions in Alaba and other markets made Lagos prosperous. Wherever your people are making money, you don't give them problems but ease of doing business.
"Prior to the presidential election, you promised Jandor no worry March 11 is your own. You have been able to prove one thing, that wherever you stand you don't shake.
He added, "Every PDP candidates that lost election on Saturday lost to no one but Peter Obi.
"Since the time we had inauguration in this place, Ladipo Market, Alaba Market, I stood by you and will continue to stand by you. This coming election is for our freedom.
"A semblance of jubilation of Abacha's death will come also. We have not seen the end of the first election just calm down.
"We will come out enmasse to vote but we have to realise that when they have god-father, Jandor will talk to God the father.
"We will provide adequate security. We will protect ourselves both conventional and unconventional. They recognized only Joe Igbokwe but I have them in their numbers to appoint in our government.
"Nobody will say we should not run the government together. Those bringing prosperity ought not to be treated badly, they are not from here, we are the owners of the state, everything that will give us prosperity will be encouraged.
We are not riding on anyone's pace," Adediran added
Back to News