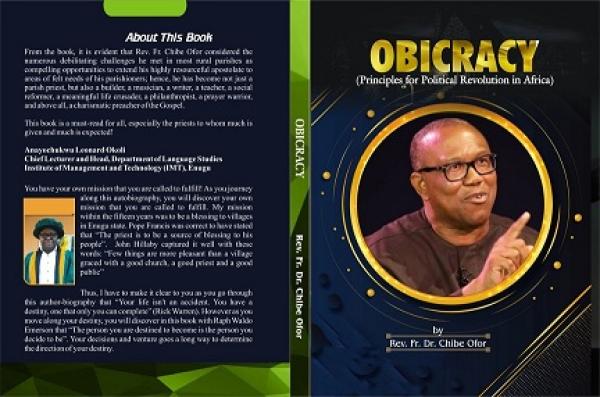 EXCLUSIVE: Finally, book defining Obicracy set to be launched
By: News Editor
Tue, 15 Nov 2022 || Nigeria,
It is no longer news that several terms have been coined in recent times to reflect and describe the presidential candidate of the Labour Party (LP) in Nigeria, Mr Peter obi, ranging from "Obicracy", "Obinomics", to the epic journalistic hullabaloo of "Obituary" by the Chairman, Editorial Board of the Nation Newspaper, Sam Omatseye, among others.
With all the sayings of the masses, who had come up with these terms, yet none was able to give a well-documented definition of the words "Obicracy' and "Obinomics"; a book has been written, with the title, "Obicracy".
Rev. Fr (Dr) Chibe Offor has taken the bull by the horns, by publishing "Obicracy"; he defined the term while trying to explain the latest publication, with the title, "Obicracy: Principles for Political Revolution in Africa"; the book is set to be launched on Friday December 16, 2022, at Merit House, Maitama, Abuja.
According to the academic and cleric, "Obicracy is a literary articulation of the principles and theory that will usher this nation to political and economic revolution".
The book, which has 40 chapters, is divided into four sections of ten chapters each; the first section (Part A), is titled "Personal Principles", followed by Part B, "Leadership Principles, next is "Political principles" and "Economic Principles"; the last part of the book is the references.
In the personal principles, the writer describes the former governor of Anambra state as one who is empathic, humble, strong-willed, optimistic and humane; describing his leadership principles, Dr Offor highlights some of Obi's values to include vision, preparation, focus, availability, dialogue, determination, just to name a few.
In mentioning his political principles, the writer describes the business magnate as being nationalistic, patriotic, pragmatic, socially just, democratic, law-abiding and federally communal, one who is able to carry everyone along.
Obi's economic policies, according to the padre, include investment and wealth-creation, accountability, welfare, creativity, fairness and equity, noting that Obi's strength of character makes him incorruptible and productive.
The Nation Newspaper, earlier mentioned, belongs to Asiwaju Bola Ahmed Tinubu, the presidential candidate of the ruling All Progressives Congress (APC).
Meanwhile, despite oppositions from the two major political parties in Nigeria, the LP's standard-bearer has continued to gain the support of many Nigerians, who believe that his emergence will herald a new dawn in the country.
Back to News