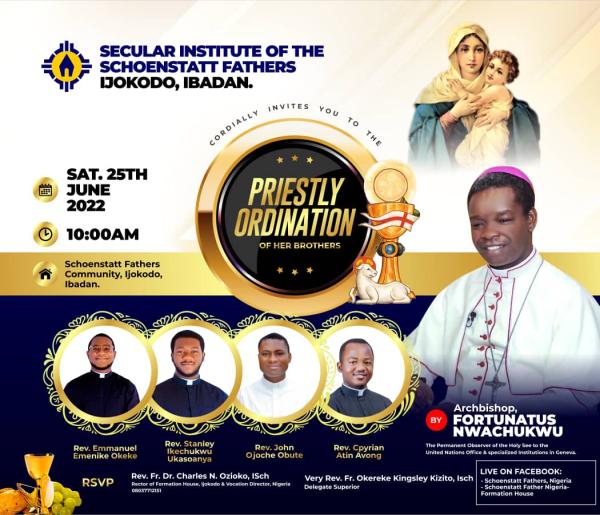 Schoenstatt Fathers Sets for Priestly Ordination
By: Abara Blessing Oluchi
Wed, 15 Jun 2022 || Nigeria,
Just as in the order of High Priest Madezedek, the Secular Institute of the Schoenstatt Fathers of the Catholic Archdiocese of Ibadan is ceremoniously set for the priestly ordination of her four Deacons.
The programme which is scheduled to take place by 10:00AM on Saturday, 25 th June, 2022 at the Schoenstatt Fathers Community, Ijokodo, Ibadan, expects dignitaries from all parts of the globe to grace the occasion.
The four Deacons to be ordained Priest include – Reverend Emmanuel Emenike Okeke; Reverend Stanley Ikechukwu Ukasoanya; Reverend John Ojoche Obute and Reverend Cyprian Atin Avong.
The atmosphere of the community is already filled with aura of celebration of the priestly ordination as everywhere is been prepared to wear a more beautiful look for the prodigious event. The Father of the day is His Grace; the Catholic Bishop of Ibadan Archdiocese, Most Reverend Gabriel Abegunrin; while Archbishop Fortunatus Nwachukwu, the permanent observer of the Holy See to the United Nations Office and specialised Institutions in Geneva is the Ordaining Prelate.
The ceremony which is promising to be marvellous would have priests and faithful across congregations and laity members. The celebrants friends and families are all expected at the colourful occasion.
Schoenstatt is a Divine Initiative that came through the hands of Father Joseph Kentenich. It was founded in 1965 as the sixth and last secular institute of the Schoenstatt Movement was founded October 18, 1914. Schoenstatt main mission is to fulfill the role of the "pars motrix et centralis," the body that provides priestly inspiration and guidance to the Movement.
In 1999, the Community moved to Ibadan, Nigeria in West Africa, where they are now centred: study house, novitiate, Fathers House, and the Shrine.
Back to News