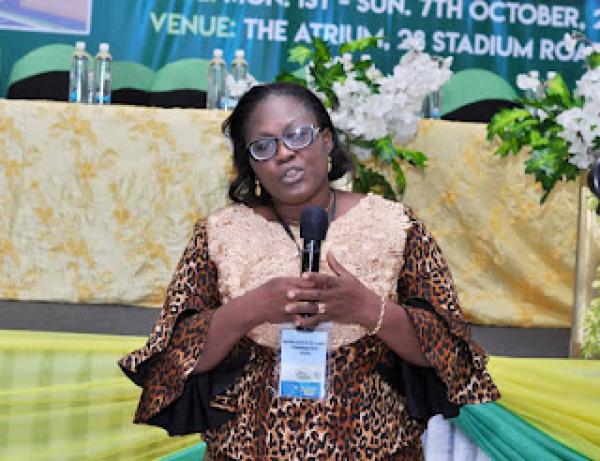 Pharm.(Mrs) Esom-Ibe Agbomma FPSN,Chairperson , 41st Annual National Conference Planning Committee
41st ACPN National Conference: Wale Oladigbolu appoints Esom-Ibe Agbomma, Chairperson
By: Abara Blessing Oluchi
Mon, 4 Apr 2022 || Nigeria,
The National Chairman of the Association of Community Pharmacists of Nigeria; Prince Wale Oladigbolu has appointed Pharm.(Mrs) Esom-Ibe Agbomma FPSN, who is the incumbent Chairperson of the Association of Community Pharmacist (ACPN), River State as the Chairperson of the 41st Annual National Conference Planning Committee of the association which is scheduled to take place at the Festival Hotel, Along Amuwo Odofin, Festac town, Lagos State, Nigeria, from July 25th-29th, 2022 .
This was made known in a statement made available to CEOAFRICA by the National Secretary of ACPN, Pharma. Eseh Igwekanma Ambrose (MAW).
Eze disclosed that the National Chairman, Prince Wale Oladigbolu appointed Pharma. Esom-Ibe Emmanuella, adding that '2022 ACPN National Conference is designed to promote the ethos of the Association of Community Pharmacists of Nigeria and it is promised to be the mother of all conferences in Nigeria, no stone will be left unturned towards making the conference a huge success."
The Association of Community Pharmacists of Nigeria (ACPN) is a technical arm of Pharmaceutical Society of Nigeria (PSN) whose commitment is to empowering every community Pharmacist to embrace best Pharmacy practice and collaborate with all stakeholders in the health sector, in order to promote quality healthcare in Nigeria.
Consequently, the ACPN National conference is meant to be the stage where Policies affecting the Practice of Community Pharmacy in Nigeria are made and directions given to contemporary and future developments in the Pharmacy profession as they affect Community Pharmacists and their Practice.
The conference is also the Prime Exhibition ground for existing, novel and emerging products and Molecules by Pharmaceutical Manufacturers, Importers, Pharmaceutical scientists and Researchers.
Back to News