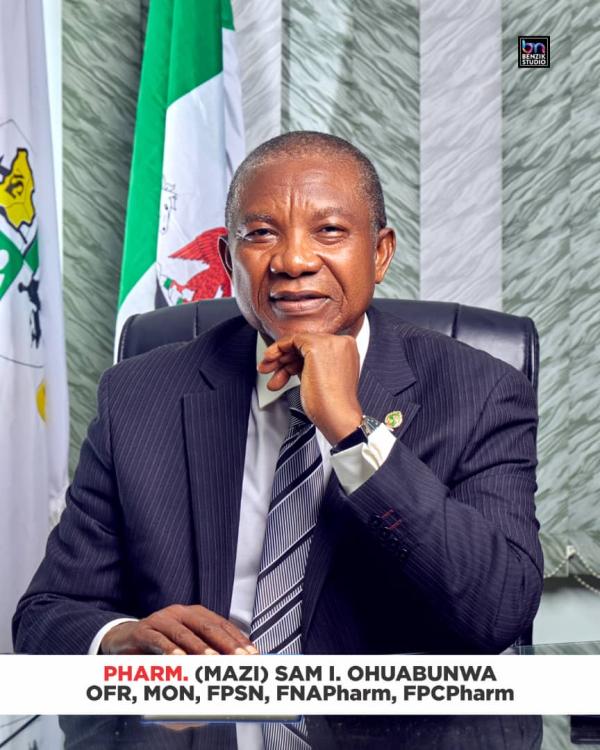 Ohuabunwa advises pharmacists to join politics as he declares his intention to run for Presidency come 2023
From: Kelvin Ugo Ubaka
Thu, 28 Oct 2021 || Nigeria, Nigeria
Thursday 28th Oct.2021: The president of the Pharmaceutical Society of Nigeria, Mazi Samuel Iheanyichukwu Ohuabunwa OFR. has advised pharmacist to consider taking up political positions in the country to foster growth and uplifting the profession.
He gave the charge recently in a chat with CEOAFRICA while making known his intention to run for the office of the presidency in the forth-coming presidential election in 2023
While citing the lack of political power support and will as some of the hindrances faced by the association,he said "without political power,professions suffer.we haved suffered in pharmacy because we don't have pharmacist in political offices,some professions have the minister ,minister of state etc,so when issues are being discussed,those ones bring political support to their professions."
He added that overtime that the association has supported members who showed interest running for political offices both financially and in times of lobbying.
He said "I have a motivation to offer myself for the service of the office of the presidency in 2023,its time for us to change the narratives. The countries we started with as third-world countries in the 60's and 70's have all left us behind and have now become first world,emergent industrialised nations and we keep running around in circles,I have defended our character and mediocrity for too long but it looks like we have not gotten that leadership we have been looking for.
"We need a competent ,enlightened leadership that has good character of integrity and has courage. I feel that God has moulded me along those qualities,to be able to show competence and have a character that is dependable and predictable and also to show courage to my friends and adversaries and make sure that we stand for what is good.Above all, our nation needs to be a God fearing nation"
The PSN president who is also an Officer of the Federal Republic OFR, stated "We plan to take Nigeria to a first world nation because in the process of doing this,you eliminate,poverty,joblessness, low life expectancy and low quality of life and increase prosperity ,infrastructure deficit will be dealt with. We hope to build a country where everyone will feel a sense of belonging,a country that works for all,the poor and the rich,the West,East North and South will all be carried along unlike what operates today where only a small clique is enjoying the fruits of the nation. A Country where you will get what is due for you without crying or shouting because we plan to elevate office of the citizenry."
He called on all those who believe in a better Nigeria with high level of productivity and full job opportunities to support the actualisation his dream.

Back to News