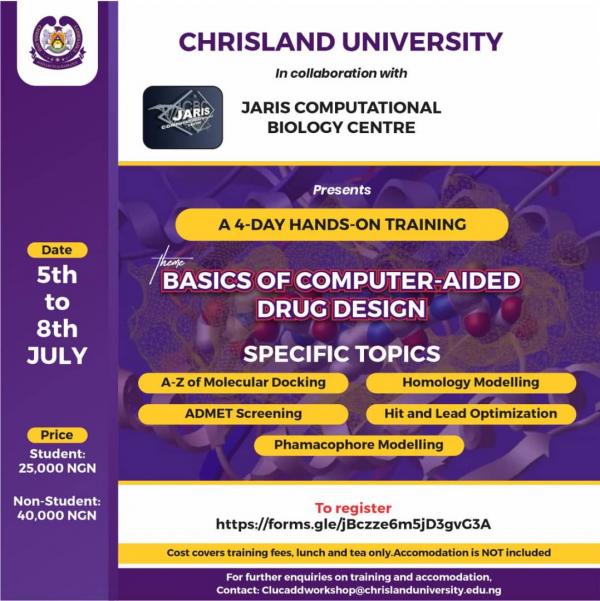 Chrisland University holds 4-day training on 'Basics of Computer-Aided Drug Design' July 5
From: 'Tunde Babalola
Mon, 14 Jun 2021 || Nigeria, Ibadan
Monday, 14th June 2021: Chrisland University, Abeokuta, Nigeria is organizing a four-day hands-on training, titled "Basics of Computer-Aided Drug Design" in collaboration with JARIS Computational Biology Centre, based in Jos, Plateau State.
According to a statement from the management of the university, the training will hold from Monday, 5th of July to Thursday, 8th of July, 2021 at the University's campus in Abeokuta, Ogun State, Nigeria.
"This face to face, hands-on workshop is a golden opportunity for scientists conducting research on drug discovery, designs and interactions to learn in silico techniques that will help save time, energy and money spent on lab-based studies," the statement added.
To participate in this four-day training, students are to pay twenty-five thousand naira each while non students are to pay forty thousand naira each.
Interested persons should please register using this link: https://forms.gle/jBczze6m5jD3gvG3A
For further enquiries, send us an email on: CLUCADDWORKSHOP@chrislanduniversity.edu.ng
Back to News