Nigeria :: News
2023: Posters of presidential aspirants flood social media
Apr 09, 2021
Source: CEOAfrica News: Reported by- Prince Lawrence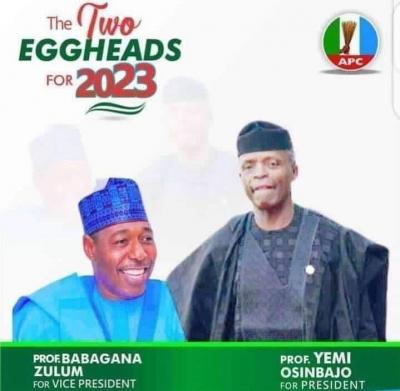 The posters of different presidential aspirants have flooded the internet.
CEOAFRICA on Friday gathered some of these posters campaigning for different aspirants under the two major parties in Nigeria- the ruling party All Progressives Congress (APC) and the opposition party Peoples Democratic Party (PDP).
Among other aspirants showing on these campaign posters are: Current Vice President Yemi Osinbajo for President and Babagana Umara Zulum the Executive Governor of Borno State as Vice President under APC; the National leader of APC, Asiwaju Bola Tinubu for President and Hon. Yakubu Dogara, former speaker, House of Representatives as the Vice President under APC; Governor Kayode Fayemi of Ekiti State also has his poster coming out for President under the APC; Yahaya Bello, current Governor of Kogi State is not left out for President under APC.
Other Presidential Aspirants whose posters appear on the social media are from PDP. They are Atiku Abubakar, former Vice President and 2019 Presidential candidate of PDP for President; Peter Obi, former governor of Anambra State and vice presidential candidate in the 2019 general election as President and Rabi';u Musa Kwankwaso, former Governor of Kano State as Vice President; Governor Aminu Waziri Tambuwal of Sokoto State as president, and Emeka Ihedioha, the immediate former Governor of Imo State and former Speaker and Deputy Speaker of the Federal House of Representatives, as Vice President; Nyemsom Wike, current Governor of Rivers State for president (no Vice president allotted); and Peter Ayodele Fayose, former governor of Ekiti State for president (with no Vice President allotted).
There is also poster of Governor David Nweze Umahi of Ebonyi State and Governor Nasir Ahmad El-Rufai of Kaduna State as President and Vice President respectively.
See below:
Headlines (Nigeria):
Read our other news items below...