Nigeria :: News
George Floyd: Family demands justice as Derek Chauvin trial begins on Monday
Mar 29, 2021
Source: CEOAfrica News: Agency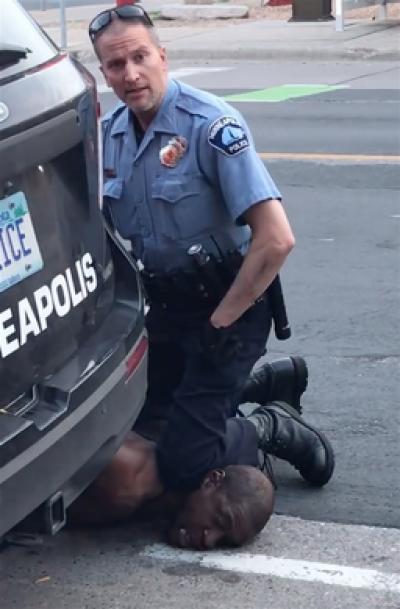 UNITED STATES
US- Monday 29, March 2021: George Floyd must receive justice, his family said ahead of opening arguments on Monday in the trial of the white police officer accused of killing the Black man.
Passers-by caught Mr Chauvin on camera as he knelt on the neck of Mr Floyd in Minneapolis for more than nine minutes.
Various protests erupted in the US and in many other countries against police brutality and racism.
Four officers were involved in the incident, together with Mr Chauvin, 45, stand trial.
Among the four Mr Chauvin faces the most serious charge, including second-degree murder, which carries a sentence of up to 40 years in prison. Mr Chauvin, who was fired from the police, has pleaded not guilty.
Ahead of the trial, a vigil service was held by the family and friends of George Floyd in Minneapolis.
"We are [a] God-fearing family, we [are] church people. So, therefore, I';m just going to end it on this - we';re asking the system for the justice," his brother Terrence said.
Philonise Floyd,another of his brothers, told reporters on Sunday: "I have a big hole right now in my heart. It can';t be patched up... I need justice for George. We need a conviction."
How will the prosecution and defence make their case?
Twelve jurors - plus two alternate (back-up) jurors - will remain anonymous and unseen throughout the televised trial. Nine of them are women, and six are men. Nine of them are white while the remaining six are both black and multiracial.
The footage showing Mr Chauvin';s knee on Mr Floyd';s neck is expected to be played by the prosecutors early on in the trial. To secure a conviction, they must prove that his conduct was a "substantial causal factor" in Mr Floyd';s death.
The concern of Mr Chauvin';s defence team would be to establish the fact that drugs were used by Mr Floyd before his arrest which may have contributed to his death, along with other underlying health conditions, and whether Mr Chauvin acted according to police procedure.
One of the back-up jurors has dropped out before proceedings began - who was a back-up option in case a juror dropped out before proceedings began. He will be dismissed on Monday, and the trial is expected to go ahead with 12 jurors and two alternates.
The jurors were asked to submit questionnaires in which they described their prior knowledge of the case, any previous contact with the police, and their media habits.
The courthouse in central Minneapolis which would be the venue of the trial has been fortified with concrete barriers, fencing, and barbed and razor wire.
Who is George Floyd?
George Floyd was a 46-year-old black-American who bought a pack of cigarettes at a store in South Minneapolis on the evening of 25 May 2020.
A shop assistant thought Mr Floyd had used a counterfeit $20 bill, so he called the police after Mr Floyd declined returning the cigarettes back.
Officers arrived and handcuffed him, but when they tried to put him into the squad car, he resisted. A struggle ensued with Mr Floyd face down on the pavement.
Mr Chauvin knelt on Mr Floyd';s neck, for more than nine minutes, according to prosecutors. Two other officers helped pin him down, while another prevented witnesses from intervening.
Mr Floyd said for more than twenty times that he could not breathe. The footage shows him go limp and get carried away by police.
An hour later, he was pronounced dead at a hospital.
(AFP)
Headlines (Nigeria):
Read our other news items below...