Nigeria :: News
Chief Executive Officers of Petroleum Agencies get renewal of appointment
Sep 26, 2020
Source: CEOAFRICA NEWS: Reported by Blessing Sunday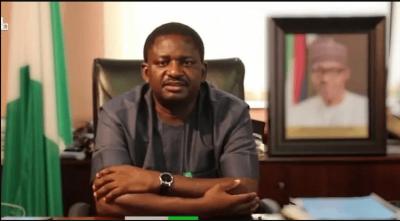 President Buhari's spokesman, Mr. Femi Adesina
NIGERIA
President Muhammadu Buhari yesterday in Abuja announced the renewal of the appointments of the chief executive officers of agencies under the Ministry of Petroleum Resources.
The president also acclaimed the recognition of the Chairman of the Nigeria National Polio Plus Committee of Rotary International, Dr. Abdulrahman Tunji Funsho, who is one of the four Nigerians listed among 100 most influential men in the world in 2020 by the TIME magazine.
The appointments renewal of the heads of the Ministry of Petroleum agencies by President Buhari was the outcome of recommendations made to the president by the Minister of State for Petroleum Resources, Chief Timipre Sylva.
In the process of naming the individuals whose appointments were renewed, the president's spokesman, Mr. Femi Adesina, in a statement, said Dr. Bello Aliyu Gusau got a presidential nod as the Executive Secretary of Petroleum Technology Development Fund (PTDF); Ahmed Bobboi as Executive Secretary/Chief Executive Officer of Petroleum Equalisation Fund (PEF), and Simbi Wabote reappointed as Executive Secretary, Nigerian Content Development and Monitoring Board (NCDMB).
The statement read: "Dr. Gusau is credited to have run the PTDF successfully in the past four years, keeping faith with the Seven Strategic Priorities he had introduced in January 2017. These are: domestication, cost cutting, sustainable funding, efficient internal processes, Linkages with the industry, Utilisation of centres of excellence, and Pursuit of home-grown research.
"Mr. Ahmed Bobboi gets his reappointment for having run PEF in a way that made it a key and strategic player in the administration's oil and gas reforms, especially in stabilising the supply and distribution of petroleum products across the country, among others.
"Engineer Wabote won his pips for managing the Nigerian Content Development Fund prudently, completing the headquarters building of NCDMB, and also initiating many landmark projects that are widely commended by industry players."
The President's spokesman, who noted that all the appointments take immediate effect, in another statement, said Buhari was happy to know that Funsho was among four Nigerians listed in 2020 TIME 100, describing it as an attestation to "the good work you did for Nigeria and Africa, in getting us to be free from wild polio virus."
Speaking further, Adesina said that Buhari believed that the recognition by TIME was just one of the many accolades that would yet come Funsho's way, "having fought a yeoman's battle to rid Nigeria and Africa of polio, which once disabled 75,000 African children every single year."
Headlines (Nigeria):
Read our other news items below...