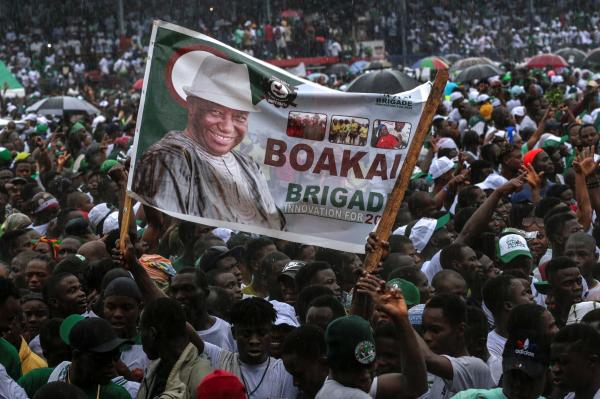 Liberia opposition leader Boakai kicks off presidential campaign to beat Weah
By: News Editor
Mon, 18 Sep 2023 || Nigeria,
Mammoth crowd gathered in Liberia's capital Monrovia on Sunday at Liberia's opposition leader Joseph Boakai launched his campaign ahead of October elections that will test the popularity of ex-football star President George Weah after a chaotic first term.
Supporters of softly spoken Boakia, 78, who came second to Weah in 2017 elections braved the rain at a stadium to dance, wave flags and demand change.
Present were some former Weah fans disillusioned by what they said was his failure to improve living standards or stamp out corruption in the impoverished West African country that has been hit this century by a civil war, a devastating Ebola outbreak, and downturns in commodities prices.
"We thought he (Weah) was going to bring the change he promised, but nothing," said businesswoman Martha Gould. "I need change for the better."
Weah came to power on a wave of hope that the hugely popular former world soccer player of the year could improve things, despite his lack of political experience.
But a series of scandals have set him back.
Last year, the United States imposed sanctions on three officials, including Weah's chief of staff Nathaniel McGill, for corruption, including allegedly misappropriating state assets. Weah fired the officials, who deny wrongdoing.
In 2018, a Liberian court issued arrest warrants for more than 30 former central bank officials in connection with $104 million that went missing.
An error in the accounting of fuel supplies in state-run tanks left Liberia short on gasoline in 2020, causing panic at the pumps.
Still, it remains to be seen if Boakai and his Unity Party can turn the tide. Weah remains popular across much of the country, and the economy grew nearly 5% last year, driven by gains in agriculture and mining, the World Bank says.
Back to News