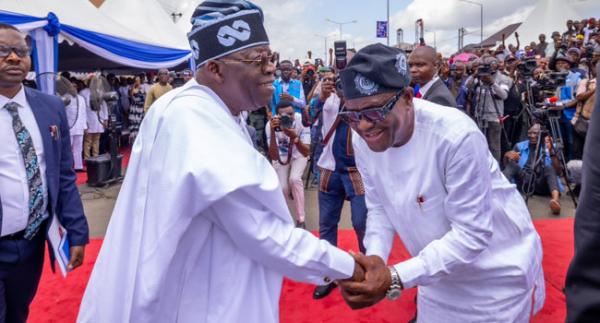 Tinubu feels your pains, renewed hope not mere talk, Wike assures Nigerians
By: Abara Blessing Oluchi
Tue, 12 Sep 2023 || Nigeria,
The Minister of the Federal Capital Territory (FCT), Nyesom Wike has assured Nigerians of President Bola Tinubu's commitment to fulfilling his campaign promises, telling them that the Nigerian leader feels their pain.
Wike said this during the flag-off of the rehabilitation of roads in the Garki area of Abuja on Monday.
"The FCT minister of state and I are here to assure you that his [Tinubu'] agenda of Renewed Hope works and to let you know that the FCT is working. The agenda of Mr President is not just by talking [but also in doing]. And that is why we have come to start with flagging off a number of roads in this area," Wike said.
"This is just phase one. In the next few weeks, we go to phase two. This is about road – infrastructure. So many things Mr President has promised. We are taking them one after the other.
"I have told you here if anything was not going to work, I would not be a party but because I know Mr President means well for this country, he wants the best for the country, that's why I said I would serve in his cabinet because he has shown Nigerians that he feels their pains," the former governor of Rivers State added.
Wike who lamented the state of infrastructure and others in Nigeria's capital city, assured Abuja residents of his administration's commitment to giving the FCT a better bargain.
"FCT before now is not the same FCT as of now. We would change everything," he said, asking residents of the area to support the government and be patient as the road projects commence.
'It Will Not Work'
But he has a warning to contractors handling the projects.
"Nothing like variation. It will not work. A job of N1 [would] in the next seven days becomes N15. It would not work. Don't even try it," he maintained.
"There is no variation in this job. We have the money to pay you. If you like, go to engineering services and do anything with them. It will not work.
"We are paying you your money and I assure you that nobody will owe you a dime. We are going to pay you and you must finish within the time we have agreed with you."
Back to News