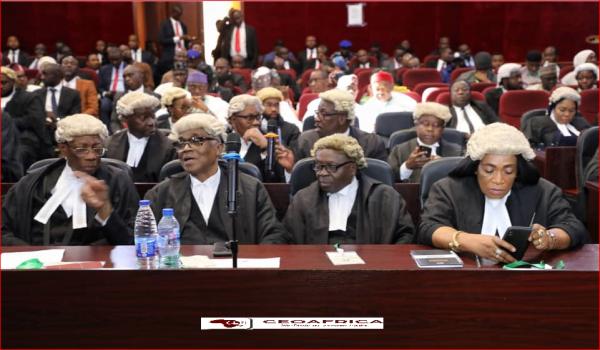 *EXPECTATIONS AS THE JUDICIARY HAS NOW DONE THEIR WORST*
By: Abara Blessing Oluchi
Fri, 8 Sep 2023 || Nigeria,
Though, as Bishop Onah of Nsukka diocese said and as I imagined, the Judges at the Tribunal are as corrupt, rascal and reckless as the rest of the Nigerians. Too bad!
But what can the just or simple Nigerian do now? Some are suggesting "japa" or "traveling abroad" as one of the solutions. But I will not subscribe to such, for it will amount to the decay of the nation. Obviously, such will result in the country being "a-no-go-area", horrible or terrible as regards habitation and livelihood.
But what can we do now as there is a "Political Coup d'etat" as being masterminded by the INEC, politicians and today perfected by the Judiciary in Nigeria?
Before delving into the pitiable question, let me likening what has been perfected today by this Tribunal verdict as what transpired when the people of Israel were to leave for their promised land from Egypt.
Oh yes, Pharaoh and his task masters refused to allow them till the expiration of the ten plagues. It was on that 10th plague that they were allowed to leave.
Truly, Tinubu with his accomplices have completed their manipulations but forgotten that God is still on the Throne controlling the affairs of man/earth.
Army take over and serious Revolution can't be now underestimated at all. No one will blame anyone should any of these happen.
It's sacrosanct and inevitable that the stolen mandate must be recovered now.
What can I say? Let God arise and defend His people and country.
May God cause the emancipation of the suffering people of Nigeria.
May all these obnoxious and nefarious politicians be put to shame.
It's not yet over as we now wait for the Divine VERDICT and Intervention.
Wishing everyone the desire to keep hope alive and evergreen.
All is well, as the Lord lives.
The new Nigeria of our dream is possible, and realizable. Such reality is fast coming.
Gracias!
- Fr. Matthew-Mary.***
Back to News