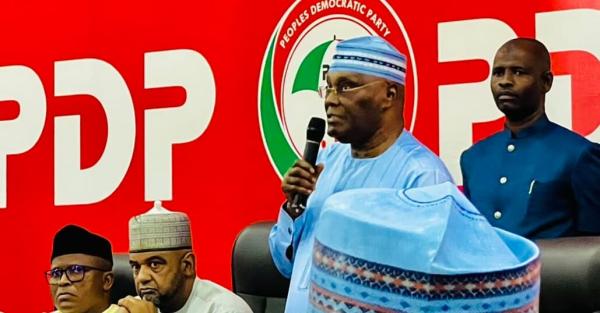 BREAKING: 'It's bereft of substantial justice' — Atiku rejects tribunal judgement
By: Abara Blessing Oluchi
Thu, 7 Sep 2023 || Nigeria,
Atiku Abubakar, former vice-president, has rejected the judgement of the presidential election petition tribunal.
Abubakar, who was the presidential candidate of Peoples Democratic Party (PDP) in the February 25 polls, spoke on Thursday at a press conference held at the party's headquarters in Abuja.
On Wednesday, the tribunal upheld the election of President Bola Tinubu.
Abubakar said he challenged Tinubu's victory at the presidential election tribunal because he believes the court is the "sanctuary of justice".
The former vice-president said the verdict given by the court "failed to restore confidence in our dreams of free and fair elections devoid of human manipulations".
"Like I did say at the beginning of this legal battle when I instructed my lawyers to file my petition challenging the outcome of the presidential election, my ultimate goal in this pursuit is to ensure that democracy is further strengthened through the principles and processes of fair hearing," Abubakar said.
"Gentlemen of the press, I take great pains to tell you that the decision of the court of first instance on this matter utterly falls far short of that expectation."
Abubakar said though he respects the judgement of the court, he does not accept it.
"I refuse to accept the judgment because I believe that it is bereft of substantial justice. However, the disappointment in the verdict of the court can never destroy my confidence in the judiciary."
The former vice-president said he is no stranger to legal battles and has asked his lawyers to file an appeal at the supreme court.
"I can say that I have a fair idea of how the court system works. All through my career as a politician, I have been a fighter, and I must say that I have found the judiciary as a worthy pillar to rest on in the pursuit of justice," he said.
"It is my conviction that the electoral process in Nigeria should be devoid of untidy manipulations and that the outcome of every election should be a perfect reflection of the wishes of the electorate."
"I believe that such is the only way through which our democracy can have a manifest expression of its true meaning. Whether I prevail in this quest or not, the record of my effort in ensuring an order of credible elections in Nigeria shall remain for future generations to evaluate."
The PDP candidate asked his supporters to remain steadfast, saying he would win the war of restoring confidence in our electoral system.
"On this note, I urge all my supporters to remain steadfast. I urge them to take solace in an immortal lesson I learned from my leader and mentor, the late Shehu Yar'Adua, that losing a battle is less important than losing the war.
"We might have lost a battle yesterday, but the war is well ahead of us. And I believe that with our hopes in God, we shall win the war of restoring confidence in our electoral system."
Back to News