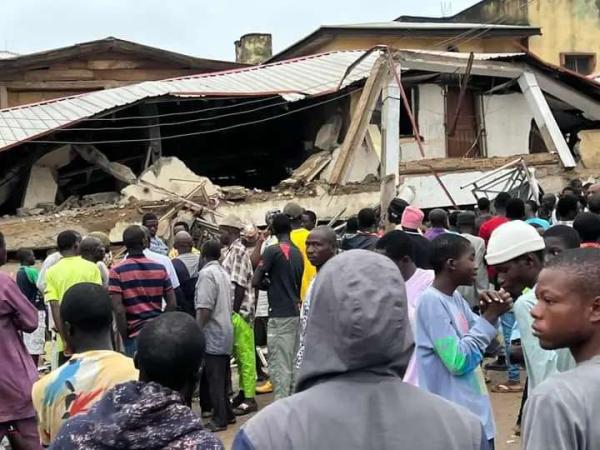 Wike orders arrest of owner of Abuja collapsed building, to resettle residents
By: Abara Blessing Oluchi
Thu, 24 Aug 2023 || Nigeria,
An order has been given by the Federal Capital Territory FCT minister, Nyesom Wike for the immediate identification and arrest of the owner of a two-storey building which collapsed in Abuja on Wednesday night.
It was gathered that the building had at least 39 residents, with two certified dead, and 37 rescued and taken to various hospitals.
The building, located at Lagos Crescent, Garki Village in the Garki District of the nation's capital, was one of the first storey buildings in the area, according to report.
While it caved it caved in around 11pm on Wednesday amid heavy downpour, rescue operations were initially very slow over the night as there was no immediate access to an excavator and rescue efforts were purely manual.
Speaking at the scene of the incident, Wike who noted that original residents of the area were designated for resettlement, however wondered why foe years, the FCT Administration could not carry out such resettlement.
While he applauded the rescue efforts, Wike said; "It is unfortunate that we woke this morning to the very disturbing news of this building collapse. It is not what we contemplated. Let me thank the agencies particularly NEMA and FEMA that have supported us to rescue not less than 37 lives. It is unfortunate that we lost two lives. I will appeal to the Permanent Secretary to make sure that funds are raised to pay the hospital bills of those who were rescued so that we do not lose any more person, and this should be done immediately.
"Secondly, these are the things we have been saying, nobody knows whose turn it will be, therefore when government says it will take actions in areas we believe there are illegal developments or buildings that do not comply with the standard codes, it is not as if anybody has any personal vendetta but for me it is for us to do the right thing.
Back to News