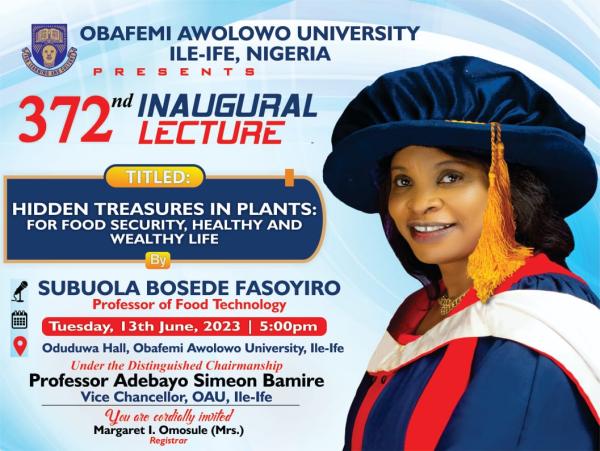 Prof. Subuola Fasoyiro of the Institute of Agricultural Research and Training
Prof. Subuola Fasoyiro is set to deliver 372nd Inauguration Lecture in OAU
By: Abara Blessing Oluchi
Wed, 31 May 2023 || Nigeria,
Professor Subuola Fasoyiro of the Institute Of Agricultural Research And Training (IAR&T) Obafemi Awolowo University (OAU), is poised to deliver the 372nd professorial Inaugural lecture.
The lecture tagged, "Hidden Treasures in Plants: For Food Security, Healthy and Wealthy Life," will focus on agricultural food production for healthy living in line with feeding the teeming population and the vast untapped prospects that lies waiting in the agribusiness sector.
The Inaugural lecture will be held on the 13th of June, 2023, and will commence at 5:00 pm. The venue for the lecture will be inside the Oduduwa Hall, Obafemi Awolowo University, Ile Ife.
In view of this Inaugural lecture, the Vice-Chancellor, on behalf of the Senate, Staff & Students of Obafemi Awolowo University, cordially invites the general public to the 372nd Inaugural Lecture Series on Tuesday, 13th June, 2023, 5PM promptly. Venue for the lecture is Oduduwa Hall, Obafemi Awolowo University.
In a chat with CEOAfrica, Prof. Subuola Fasoyiro expressed her joy for the opportunity to give account of her report card in her professorial field. She said it is one moment she's been looking forward to, and thanked God that it is here.
The Inaugural Lecture Series is a formal celebration of an academic report card of a professor
The lecture is open to both members of the university community and the wider public.
Lecture is free of charge and attendance is open to all. It promises to be great; save the date and time, and don't miss it.
Vice Chancellor Adebayo Simeon Bamire is waiting to welcome you!
Back to News