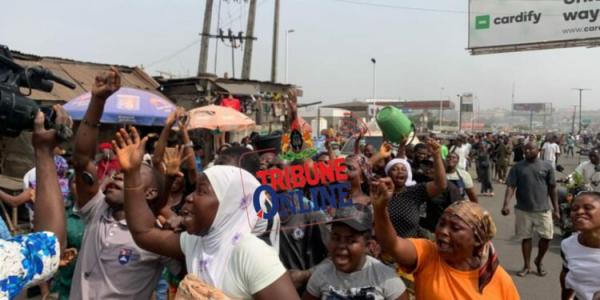 Naira Swap: Protesters Block Lagos-Ibadan Expressway, Mount Bonfires
From: Agency Report
Sat, 18 Feb 2023 || Nigeria,
The protest over the standoff created by the ongoing currency swap embarked on by Presi­dent Muhammadu Buhari-led Federal government and the Central Bank of Nigeria (CBN) has continued to spread to other parts of the country.
The protest that was earlier staged in Abeokuta, Ibadan, Benin, Port-Harcourt, and oth­er major cities spread to Lagos and some parts of Ogun State on Friday.
The protest that began some kilometers to Mile 12, Ketu, and Ojota quickly spread to neigh­bouring border communities with Ogun State.
After calmness had returned to Mile 12, Ketu, and Ojota fol­lowing intervention by a com­bination of the military and Po­lice, at about 11 a.m, protesters blocked the Ibafo area along the Lagos-Ibadan expressway thus impeding the flow of vehicles in and out of Lagos State.
Many motorists could nei­ther move forward on the La­gos-Ibadan expressway nor re­turn to Lagos as many barricades and bonfires were set on the road, even as security operatives tried to disperse the rioters.
The angry protesters rained curses on the government and the CBN for repaying Nigerians with pain and despair in the past seven years.
The team of security oper­atives had a hectic time as dis­persed protesters regrouped in other sections of the expressway to mount goalposts for football games.
A stranded commuter and former Commissioner for Local Government and Chieftaincy Affairs in Osun State, Sikiru Ayedun, told an online news platform that the protest is a reflection of the adversity being suffered by Nigerians.
"This is just telling us the situation in our country. Things are hard; we have money but we can't access it. You don't expect things like this would happen and people would not react this way," he said.
A Personal Assistant to a first-class traditional ruler in the southwest, whose entourage was also held in the traffic, told Saturday INDEPENDENT that the best option for the team was to return to their base.
He expressed the fear of the unknown, saying if the road clears they will continue the journey.
However, at Mile 12 market soldiers and men of the Nigerian Police stood guard at the interna­tional market arena and near the Gani Fawehinmi Park at Ojota.
However, some Nigerians said old naira notes are now ex­changed at N6500 in exchange for N5000 new notes, as many POS points visited expressed disap­pointment in getting new naira notes to pay to their customers.
Back to News