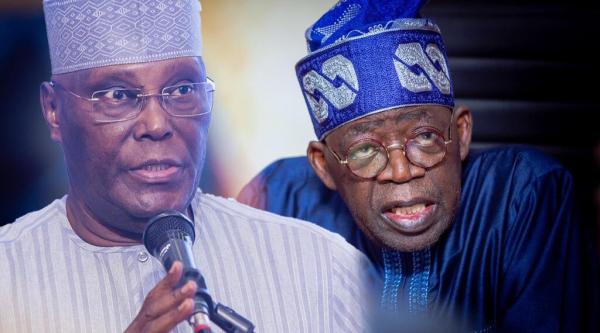 2023: Blackmailing Buhari will not save Tinubu from defeat, Atiku blasts APC
By: Cletus Sunday Ilobanafor
Wed, 25 Jan 2023 || Nigeria,
The Atiku/Okowa Campaign Organization has berated the Presidential candidate of the All Progressives Congress (APC), Asiwaju Bola Tinubu, for trying to blackmail President Muhammadu Buhari by blaming the APC-led Federal Government over his looming devastating rejection by Nigerians.
"Our campaign finds it pathetic that Asiwaju Tinubu is seeking a face-saving measure ahead of his shattering electoral defeat by shedding crocodile tears and claiming that the redesigning of the naira notes and the fuel crisis under the APC administration, which he has reportedly been corruptly benefitting, were plots to scuttle the 2023 general elections," the campaign said.
The Atiku/Okowa Campaign Organization, in a statement by its spokesperson, Kola Ologbondiyan said it is unfortunate that Tinubu is trying to hoodwink Nigerians by seeking to exonerate himself and blame others in the Buhari led-APC administration from the biting fuel scarcity in the country when in reality he (Asiwaju Tinubu) is known to be behind the insensitive and anti-people policies that have brought so much calamity to the country including the current persistent fuel scarcity.
"It indeed speaks volumes of Asiwaju Tinubu's character, that while he is reported to be hugely involved in the corruption in the petroleum sector, which had led to the fuel crisis, he is pretending to care for the pains Nigerians are passing through just because it was beginning to affect his political life ambition.
"Furthermore, it is clear that Asiwaju Tinubu is lamenting over the redesigning of the naira just because the policy has frustrated his boastful plots to use slush funds, which he reportedly stashed away in secret vaults, for vote buying and manipulative schemes including alleged funding of thugs to compromise the integrity of the 2023 Presidential election through the setting up of the Jagaban Army
"Of course, only politicians who have always won elections by relying on bullion vans have become troubled over the Central Bank of Nigeria (CBN) monetary policy to redesign the naira.
"More reprehensible is the fact that a few months to the end of the Buhari government, Asiwaju Tinubu is now struggling to distance himself from an administration that he told the world that he brought into office just because he wants to beguile Nigerians and take their votes," the campaign said.
Back to News