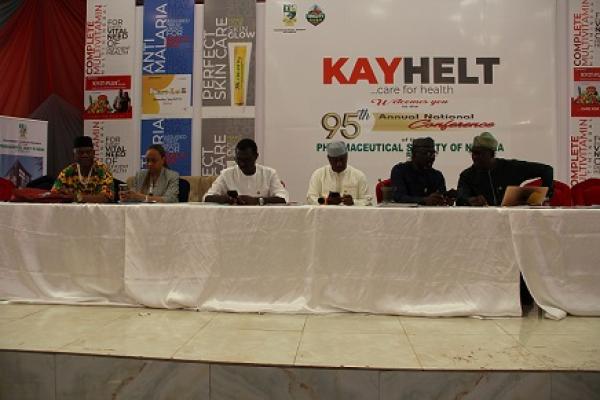 PSN holds her AGM
By: News Editor
Tue, 22 Nov 2022 || Nigeria, Jos, Plateau State
The Pharmaceutical Society of Nigeria (PSN) has held her Annual General Meeting on November 4, 2022, in the course of her just concluded 95th Annual National Conference, held in Jos; the meeting was chaired by the president of the PSN, Pharm. (Prof.) Cyril Odianose Usifoh.
In the course of the meeting, the Registrar, Pharmacy Council of Nigeria (PCN), Pharm. Ibrahim Babashehu Ahmed, who noted that the theme of the conference, "Medicine Security in an Unstable Economy" is apt in solving myriads of problems in the pharma sector, stated that economic hardship has severe negative impact on people's health, adding that there is need to strengthen local manufacture of drugs.
The statement was contained in his goodwill message to the PSN, as he lauded the relentless sacrifices of the President, Prof. Usifoh, along with his team, who he described as focused, visionary and dynamic.
The agenda for the meeting was adopted by the Ogun state's branch of the PSN and seconded by the Plateau state or the hosting branch.
It was a moment of extensive deliberations on the recently signed Pharmacy Council of Nigeria Act of 2022, signed on August 16 by the President and Commander-in-Chief of the Armed Forces, Federal Republic of Nigeria, Muhammadu Buhari, GCFR.
The law, which has 71 sections, is said to be in the Exclusive List, which means that state governments do not have control over it.
Different aspects of all the sections and subsections of the law were considered; the Act seeks to harmonise the roles of all the stakeholders in the Pharmacy sector, including pharmacists, pharmacy technicians, patent medicine dealers, satellite medicine facilities' operators, among others.
The registrar of the council is mandated to have all their records; the immediate past registrar, Pharm. (Dr) Elijah Mohammed, together with the incumbent, Pharm. Babashehu, was commended for his efforts in making the actualization of the Act a reality.
Pharm. (Dr) Mohammed, who expressed deep sense of joy over the new law, urged all the pharmacists to ensure that the law achieves its goals, adding that his successor, Babashehu, who he described as a hardworking gentleman, needs their maximum support to succeed.
The meeting saw the adoption of resolutions, including the resolution on the amendment of parts of the society's constitution; in addition, a new National Financial Secretary was elected, Pharm. Wetben Luka.
Some awards were given, Pharm. (Dr) Charles Ronary won the Pfizer Award of Excellence, Pharm. (Prof.) Gray Ozotua won the M&B Professional Excellence Service Award; other winners include Pharm. Simisola Temidayo Oloye and Pharm. Ibrahim Kolawole.
Many pharmaceutical companies used the medium to exhibit and tell the world about their products.
Back to News