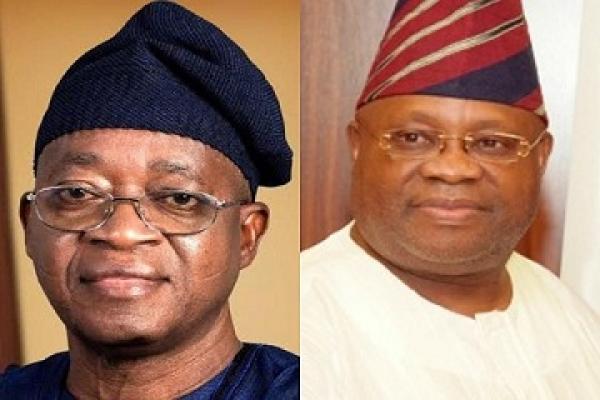 Osun Tribunal adjourns pre-trial till Oct. 4th
By: News Editor
Mon, 26 Sep 2022 || Nigeria, Osogbo, Osun State
The Osun State Tribunal hearing of the petition filed by Governor Gboyega Oyetola, against the result of the July 16th, 2022 Governorship poll has adjourned sitting till Tuesday Oct. 4th.
The sitting was adjourned to enable all the respondents to file their responses to the pre-trial form.
The sitting panel was presided by Justice Tertsea Kume, alongside Justices Benedict Amaugbe and Bashiru Rabi
Prof. Kayode Olatoke who represented Gov. Oyetola, with other 49 lawyers, told the panel he had filed the pre-trial for containing his responses to issues listed for determination.
Olatoke said the respondents, Independent National Electoral Commission (INEC), Sen Ademola Adeleke and the Peoples Democratic Party (PDP) have been served.
He said; "We were served the form on Friday and we filed the response and served all the respondents on Monday. We can go ahead with the hearing."
However the lead counsel for the respondents, Prof. Paul Ananaba, who appeared with Oluwole Jimi-Bada, Mubarak Adekilekun and Nurudeen Kareem, said they had just gotten the pre-trial form on Monday.
He said; "We are just served the pre-trial form this morning, we need more time so that we can file our response."
Olatoke asked the tribunal to stand down the matter for two hours so as to enable the respondents to file their pre-trial form
But Ananaba said; "The second schedule of Electoral Law permits us to reply within seven days. They just served us the pre-trial form this Morning so we have the privilege of seven days to reply."
The Chairman of the Panel in his ruling adjourned the matter to Tuesday, October 4th to enable the respondents file their pre-trial form.
Back to News