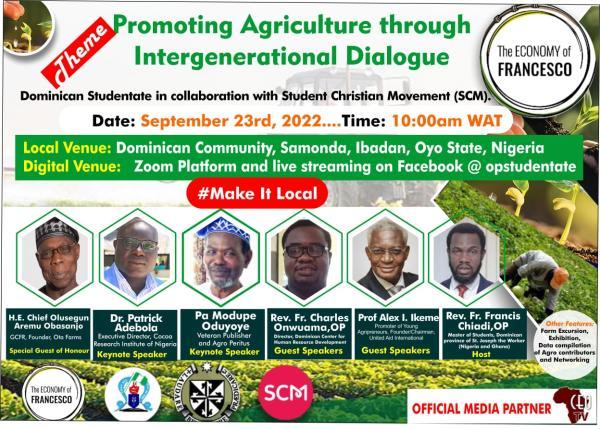 Dominican Studentate set to host Nigeria, Ghana, others in few hours
By: Abara Blessing Oluchi
Thu, 22 Sep 2022 || Nigeria,
All plans have been concluded as the Studentate Dominican Province of St Joseph the Worker (Nigeria and Ghana), in collaboration with the Student Christian Movement (SCM), is set to celebrate locally, an annual international agricultural and economic empowerment event, meant for the youths, Economy of Francesco (EoF), in Ibadan, tomorrow, Friday, 23rd September, 2022.
The event, established by the Pope (Francis 1), is set to be celebrated at the Dominican University's hall, at 10:00 am, prompt, and is expected to host more than a thousand participants, especially youths who have made impact or have interest in agriculture, research, innovation and economics.
Recall that CEOAFRICA had earlier reported that the event was scheduled by the Pope, to hold globally between 22nd and 24th of September, in Assisi, Vatican; while the main conference, seminars and workshops will hold on the 23rd, which some regions may domesticate based on the peculiarity of their settings, Pope would address the global community on the 24th; the first two editions held virtually, 2020 and 2021.
Meanwhile, Dominican University is not the host, instead the school's facilities are being used by the host for easier access to the participating countries.
Former President Olusegun Obasanjo, who doubles as the Founder, Otta Farm in Ogun state, Oyo State Governor, Engr Seyi Makinde, Dr. Patrick Adebola, Executive Director, Cocoa Research Institute of Nigeria, Hon. Adeniyi Adebisi, Oyo State Commissioner for Agriculture and Rural Development, Hon. Asiwaju Seun Fakorede, Oyo State Commissioner for Youth and Sport among others, have stated their readiness to grace the event.
The event will also be made available virtually, as well, for those who may not be able to attend physically due to distance or other challenges via Facebook (@opstudentate) as well as Zoom.
The Economy of Francesco, as earlier implied, is an international event that was established by Pope Francis in 2020 and dedicated, in particular, to young people working in the field of economics, those who study economic disciplines, as well as young entrepreneurs, researchers and economists from all over the world.
The idea is to develop a new economics for the 21st century, one that responds to the challenges of our time; Pope, in his inimitable wisdom, turned the task over to young economists around the world, with oldsters serving as advisers and sounding boards.
Pope Francis, whose messages to the youths in the previous two editions were made available virtually and via video tape, has confirmed his availability for this year's edition; details of access to the pope's message on Saturday will be made available at this event tomorrow.
Back to News