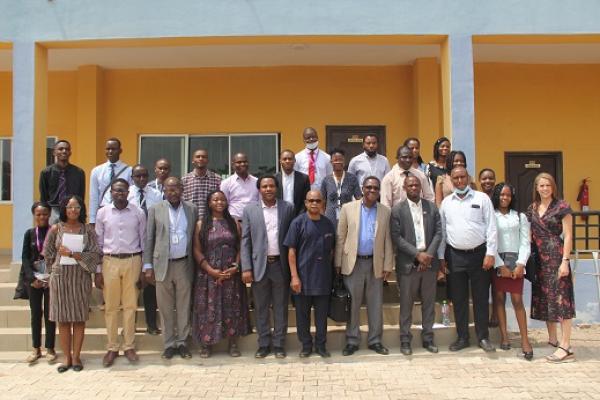 Again, US consulate visits Chrisland University with Fulbright scholars
By: Abara Blessing Oluchi
Wed, 2 Mar 2022 || Nigeria,
In less than 10 days, the United States Consulate Mission, Lagos office, Nigeria, paid a second visit to Chrisland University Abeokuta, Ogun State to link American Fulbright Scholars with the citadel of learning to help boost research and development capabilities by delivering thesis writing training for both students and staff.
The visit which took place on Friday, 25th Febuary was again led by Deputy Public Affairs Officer, United States Consulate-General, Mrs Jennifer Foltz.
Foltz stated that the mission is to further deepen the partnership with the university by linking American Fulbright Scholars with the institution to help boost the research and development capabilities by delivering thesis writing training for both students and staff.
Speaking with CEOAFRICA, Jennifer said "We are very excited to be here again in Chrisland University Abeokuta. Today we came with six researchers from United States. We came to engage with some of the students of Chrisland University on how to write thesis and how to conduct research. "
The fulbright scholars deliberated on steps towards choosing research topics, planning, reading and researching, outlining relevant research trends and statement of problem, analyzing sources, and drafting.
Explaining the significance of proper research design, the scholars stated that the results of the synthesis may be generalized and the findings may be projected into the broader population with more validity than most other types of studies.
According to the scholars, obtaining information relevant to the research problem in social sciences generally entails specifying the type of evidence needed to test a theory, to evaluate a program, or to accurately describe and assess meaning related to an observable phenomenon.
The Vice Chancellor of the great institution, Professor Chinedum Peace Babalola FAS in her vote of thanks through the online platform, thanked the US consulate for considering Chrisland university for such an engagement with American Fulbright Scholars and Researchers. She promised that the university will continue to work with such scholars for research breakthrough. The AU laurate further said that the university will continue to provide enabling environment toward building a world class university.
The delegation team from the US Consulate are Jennifer Foltz, Deputy Public Affairs Officer, U.S. Consulate General, Lagos, Madison Conoley, Cultural Affairs Officer, U.S. Embassy, Abuja, Clemson Ayegbusi, Fulbright Coordinator, U.S. Consulate General, Lagos, the US fulbright team are : Ayadi, Olusegun, Department of Accounting/Finance, Texas Southern University, Ogunro Vincent Department of Engineering, University of North Carolina at Charlotte, Onyeiwu, Stephen, Department of Economics , Allegheny College, Ajao Anuoluwapo, Department of Public Health ,University of Massachusetts Boston, Afolayan Eniola, Department of Anthropology,University of Virginia-Main Campus, VA, Thomas Helen, Department of Interdisciplinary Studies, University of Washington, Bothell
Recall that that CEOAFRICA earlier reported that the United States Consulate Mission had on Thursday, 17th February 2022 visited Chrisland University.
The team was led by the Deputy Public Affairs Officer, United States Consulate-General, Jennifer Foltz who arrived the University campus with a courtesy call on the Vice Chancellor, Professor Chinedum Peace Babalola in her office to brief her of their mission to the citadel of learning.
Speaking, Mrs Jennifer Foltz said they are in the university to establish a relationship between the institution and US consulate, to donate an e-library resources with training on how to use it, interact with students and staff of the University on how to better develop themselves.
The consulate said the donation was part of its core mandate in promoting educational opportunities for Nigerian students and scholars.
"As we travel across Southern Nigeria, we try to know different universities; we try to get to know the leadership, the faculties, the staff, the students and define what areas of specialities they have, what areas of research, so that we can look for ways to collaborate.
"So, we are here today at the Chrisland University, Abeokuta, to learn more about the university and see which areas we can forge our partnership".
She disclosed that the government of the United States of America (USA) currently has about seven US full-scholarship programmes for students at various universities in Nigeria where research and teachings among other activities are being carried out.
The visit was sponsored by the U.S. Embassy's Public Affairs Section through the auspices of the U.S. Department of State's Fulbright Specialist Program.
The Fulbright Specialist Programme is a short-term complement to the more widely known U.S. Fulbright Scholar Programme which sends American academics and professionals abroad to consult, research, and promote discussion as subject matter specialists.
The Program, which has been operating in over 160 countries since 1946 to encourage worldwide educational and cultural exchanges among prominent and talented students, academics, teachers, and professionals from all professions, is celebrating its 75th anniversary this year.
Back to News