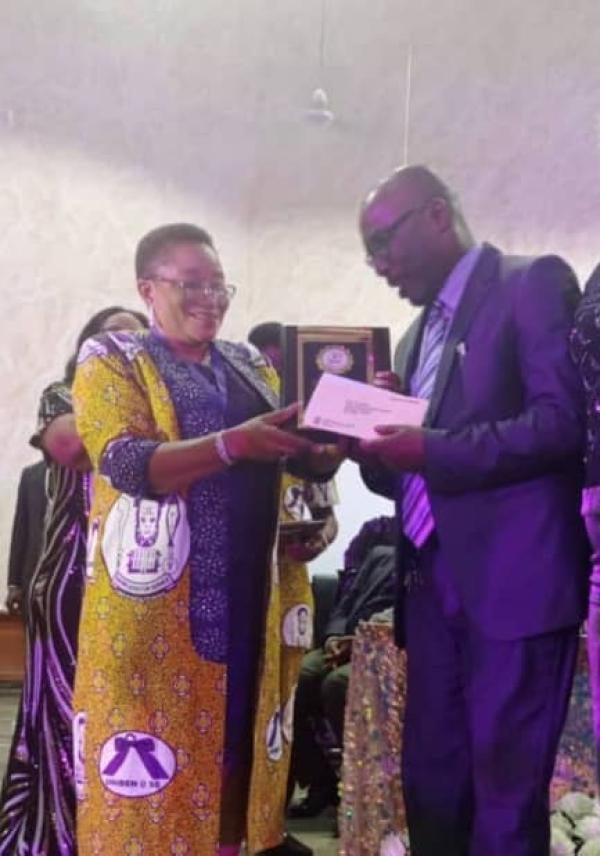 PSN President Prof. Usifo receives UNIBEN's award of excellence and productivity
From: Kelvin Ugo Ubaka
Thu, 25 Nov 2021 || Nigeria, Edo
THURDAY- 25th November, 2021: Sequel to CEOAFRICA's report on Tuesday 23rd November of the University of Benin's announcement of its presentation of an award of 'Excellence and Productivity' on the President of the Pharmaceutical Society of Nigeria, Prof. Cyril Usifo, and so it was on Wednesday 24th November, 2021 at the Akin Deko Auditorium, Uniben where the Vice Chancellor of the University, Professor Lilian Salami presented the prestigious award to Usifo.
Recall that the institution had put out a statement to validate and notice its intention of honouring one of its own.
The statement from the University signed by E.O. Orekha, for the Registrar which was obtained by CEOAFRICA read, "In accordance with the directive of the Registrar, I write to inform you that the University Management has received and duly considered your nomination for the University's Excellence and
Productivity Award for the year 2021."
Also present at the occasion were family members and friends of Prof. Usifo, which included his wife and daughter who is also a Pharmacist.
Professor Cyril Odianose Usifo is a Professor of Pharmacy at Uniben and the present President of PSN. His exploits overtime at the society and for pharmacy has always been recognised as he has picked up several awards of repute.
PSN President Prof. Usifo receives UNIBEN's award of excellence and productivity
PSN President Prof. Usifo receives UNIBEN's award of excellence and productivity


Back to News