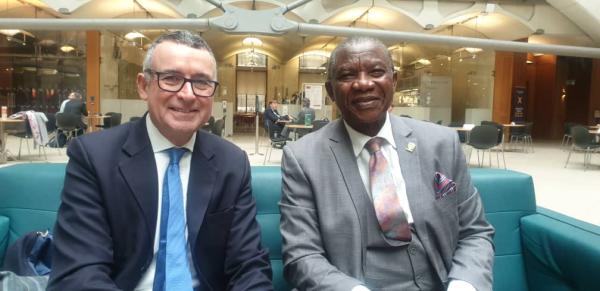 PDP Presidential hopeful, Ohuabunwa lands in UK House of Commons
From: Kelvin Ugo Ubaka
Thu, 25 Nov 2021 || United Kingdom, UK
Thursday 25th November 2021: In furtherance of the New Nigeria Group's mission towards recreating a better Nigeria and solving the challenges currently faced by the citizens, the Convener of the New Nigeria Group and Peoples Democratic
Party Presidential Hopeful, Mazi Sam Ohuabunwa yesterday held a meeting with members of Parliament at the United Kingdom's House of Common.
Ohuabunwa, a former Chairman of the Nigerian Economic Summit Group (NESG), who declared his intention to run for President come 2023 discussed topical issues that presently plague the Nigerian economy
while also rendering solutions to most of the topics raised.
At the meeting was the Chairman of the Liaison Committee and Member of Parliament for Harwich and North Essex since 2010,Sir Bernard Jenkins, and Prof. Owei Eradiri who was in company of Mazi Sam Ohuabunwa.
Recall that Mazi Sam Ohuabunwa earlier in the month officially declared his intention to run for office of Presidency in Nigeria and since then hasn't rested on his oars as he continues to let the World know that his
key focus would be on four current challenges in the nation, which included poverty, corruption, injustice and insecurity, adding that if elected, he would stop unrestrained killings across the nation in 60 days.
Back to News