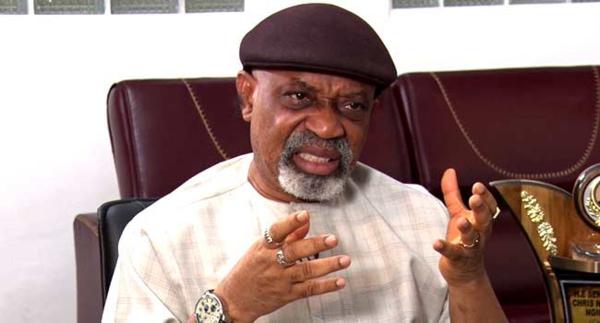 Doctors' strike: Ngige said to have stopped negotiating with NARD
From: CEOAFRICA
Mon, 23 Aug 2021 || Nigeria, Abuja
The Minister of Labour and Employment, Dr. Chris Ngige has disclosed that he has stopped negotiating with the National Association of Resident Doctors (NARD) over the current strike action embarked upon by the resident doctors.
Ngige noted that since the doctors decided to take the matter to court, there is no point talking to them again on the negotiating table.
The strike embarked upon by the doctors had been expected to be close to a peaceful resolution until the resident doctors told the federal government they won't sign the memorandum of understanding put on the table by the government team.
The doctors accused the government of insincerity in its dealings, hence their inability to trust what is contained in the memorandum again since they've been deceived previously.
The Doctors also want a direct negotiation with President Muhammadu Buhari as they held that those they've been negotiating with are not trustworthy.
CEOAFRICA recalls Chris Ngige, said doctors tend to go on strike more often when someone from the medical profession holds a political position.
Ngige, who is also a medical doctor, said this on Thursday at the 2nd Summit of Medical Elders Forum (MEF) in Abuja.
Recalls the NARD President, Dr Okhuaihesuyi Uyilawa on Sunday, said accepting the government's new offer would have amounted to them paying for the government's failure.
He said, as medical doctors, they were not after crippling the nation's health sector, but insisted that they could not sign the new MoU because of the introduction of an undisclosed clause in the agreement.
Reacting when contacted on the position of the resident doctors, Ngige also pointed out that the meeting he had before a fresh memorandum of understanding presented was with the Nigerian Medical Association (NMA) and not with NARD.
This is as he also directed newsmen to speak with the NMA on why NARD has refused to accept the fresh government offer.
Arguing that he is only a mediator in the entire process and not an employer of the resident doctors, Ngige said other unions present at the negotiation accepted the government's offer and he wonders why the resident doctors rejected the same offer.
"Call the NMA president and ask him. He was there throughout the two-day negotiations. He led them.
"I wasn't negotiating with them (NARD). I was negotiating with the NMA. So, call the NMA for their reaction.
"I didn't negotiate with them (NARD) because their matter has been transmitted to the court. The NARD is in court. So, it is the NMA that we held a meeting with and discussed with.
"I am not negotiating with them. The Ministry of Health is their employer, I am only a conciliator.
"Other unions and bodies like the NMA, the elders' council, the Office of the Head of Service and the Budget Office, among others, were there and they agreed," Ngige was quoted by Punch to have said on the matter.
Back to News