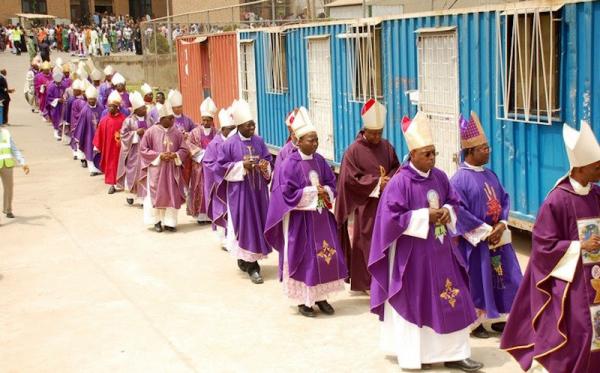 Council of Bishops honours 6 with Peace Ambassadors
From: 'Tunde Babalola
Mon, 28 Jun 2021 || Nigeria, Lagos
Monday, 28th June 2021: The Pan-Africa Episcopal, (PAE) University and Council of Bishops/Apostles have honoured six persons with the Ambassador of Peace and Conflict Relations awards for the promotion of peace in the world.
The awards were given at an event organised by PAE university to present ambassadorial and academic certificates to the institute's alumna on Sunday in Lagos.
The recipients were Bishop Rey Baker, Dr Amos Obasi, Mr Emeka Mozoba, Mrs Edith Daniel, Bishop Tammy Willie and Rev. Rose Tammy-Willie.
According to Prof. Fire Agada, Chancellor and International Prelate of the Institute, the awards were predicated on the recipients outstanding track records in the area of diplomatic peace spreading.
He charged the awardees not to see it as just another feather on their caps but as a call to work harder for the good of the world.
"There is war and crisis everywhere in the world. It is your obligation to go and find ways to create peace.
"Know that to create peace, the first thing to do is to take away hunger then deal with lack of transparency, lack of obedience to the rule of law, gender inequality and the justice system," he said.
The chancellor, who is also a Commandant Chaplain of the Peace Corps, led the participants in prayers for peace for the nation and wisdom for her leaders.
He urged Nigerians, particularly leaders of institutions, to take advantage of the degree and professional courses offered at the university.
Agada disclosed that the university's Lagos campus would soon be operational.
Three Doctorate certificates and a professorship were conferred at the event.
Bishop Rey Baker, Overseer of Liberation Hope Restoration Ministries in Lagos was conferred as a professor, while Bishop Tammy Willie, The Humility Glory Mission bagged a Ph.D. in Religious Science and Educational Management.
Also, Rev. Rose Tammy-Willie was awarded a Ph.D. in Religious Conflict and Peace Resolution.
Earlier, Bishop Rey Baker, called on Nigerians to acquire more knowledge to live better and help the nation develop.
"No society can develop without education. It is the basis of development.
"Education can make a person healthier because with information received, he knows what to eat and what to avoid and the benefits of exercising," Baker said.
He further called for the collaboration of parents in ensuring that their children receive the needed attention in their studies.
Back to News