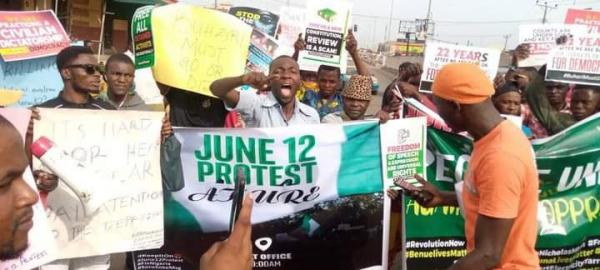 #June12 Protest: Gunshots as police disrupt peaceful protest in Ijebu-Ode
From: 'Tunde Babalola
Sat, 12 Jun 2021 || Nigeria, Ijebu ode
Saturday, 12th June 2021: Some police officers in Ijebu-Ode, Ogun State, have repeatedly opened fire on peaceful protesters in Ijebu-Ode, Ogun State.
Ijebu-Ode is one of the major cities of Ogun State, which is the home state of the late M.K.O Abiola, the winner of the June 12, 1993 presidential election, in whose memory June 12 was chosen as Nigeria's Democracy Day.
A video clip capturing what appears to be a scene of protesters taking to their heels as gunshots sounded in the background has gone viral following the action of the policemen.
It happened at Lagos Garage, Ijebu-Ode on Saturday, our reporter was reliably informed.
"They requested that protesters should leave and we resisted. Before we could say Jack, they opened fire to scare away the protesters," an eyewitness confirmed.
The state police spokesperson, Abimbola Oyeyemi, did not respond to calls and text messages as of the time of filing this report.
There have been reports on assaults on protesters in various parts of Nigeria.
It was reported earlier that a BBC reporter, identified as Michael, was attacked by a police officer at Mokola in Ibadan, Oyo State.
The reporter, who works with BBC Pidgin, was slapped while trying to record the harassment of protesters by security operatives.
CEOAFRICA had reported how policemen fired teargas canisters to disperse some peaceful protesters in the Gudu area of Abuja early in the morning.
Back to News