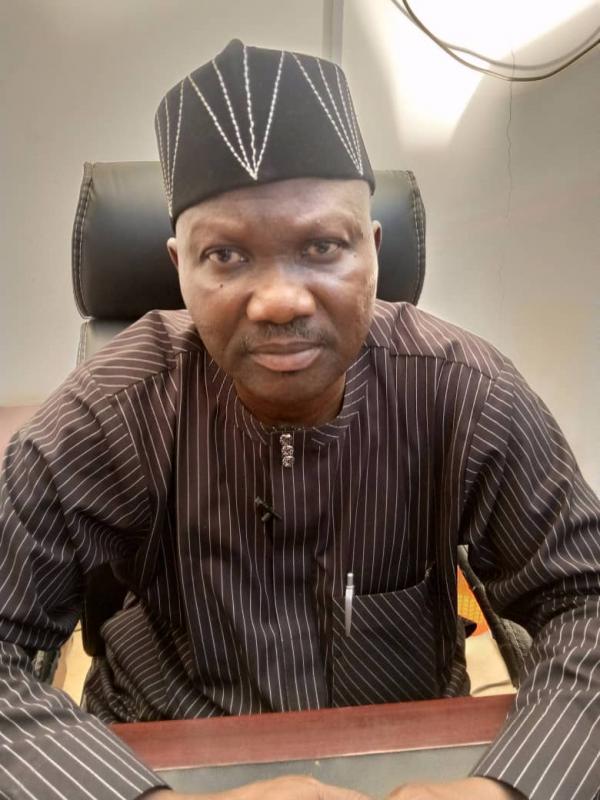 National Association of Microfinance banks' President picks holes in FG's disbursement of N50bn Covid fund
From: CEOAfrica News: Reported by- Tunde Babalola
Fri, 4 Jun 2021 || Nigeria, Abuja
Friday, 4th June 2021: The National President of the National Association of Microfinance Banks in Nigeria, (NAMB), Alhaji Yusuf Ahmed Gyallesu, has picked holes in the disbursement of the N50 billion Federal Government's Covid-19 assisted loans to the downtrodden through only the Nigeria Incentive-Based Risk Sharing System for Agricultural Lending (NIRSAL).
In an exclusive interview with CEOAFRICA in his office in Abuja, Gyallesu said it was a wrong choice to go through NIRSAL that is a new to microfinance to reach millions of Nigerians expected to be captured in the exercise.
Rather, NAMB President, the umbrella body of all licensed microfinance banks in Nigeria said the Federal Government need correct this mis-normal by channeling the fund through microfinance banks if they want to achieve the desired results.
According to him, "We have faulted that (the disbursement of N50b to NIRSAL) immediately that was done. We wrote, ours is not to fight anybody but to do the right thing that is what we are advocating.
"If truly they (Federal Government) want the effect of the fund to trickle down to Nigerians affected by Covid, they should do business with the microfinance banks.
"It is not late; CBN (Central Bank of Nigeria) should go back to their drawing board and work with us.
"It is our commonwealth, we need to be involved. They need to involve the registered and licensed microfinance banks. We know our strength are not the same; the 874 microfinance banks are not the same.
"We have the unit microfinance banks; we have the state microfinance banks and national microfinance banks. But I want to tell you, we have some microfinance bank working effectively more than some commercial banks. Why don't we sieve from the many that we have and then look at the geographical spread and know who get what.
"NIRSAL have only one platform and you know, there would be traffic congestion on their website, even assessing their sites would be very difficult. If it is open to 20 or 50 more, it would be seamless and less cumbersome to reach out to needy Nigerians and for them to apply. We are Nigerians too and we have right to assess it. That should be looked into and the right thing should be done going forward."
Gyallesu explained that National Association of Microfinance Banks in Nigeria had from the onset been clamouring that the proper thing must be done when the government announced the release of the N50 billion for loan to victims of Covid-19, insisting that they too in the microfinance banks are also victims of Covid.
He said, "there was an effort by the government to push out N50 billion as post Covid intervention to assist these SMEs (Small Medium Enterprises) who are basically our customers. When this money came out and was given to CBN.
"CBN gave the whole money to one microfinance bank, they gave it to NIRSAL microfinance bank, which we believe it is still part of the CBN, it is their own. For your information, NIRSAL microfinance bank, is an idea of the powers that be in the sector and was flouted by the Bankers committee.
"The chairman of the bankers committee is CBN. This one bank is barely two and a half to three years old now. Most of our microfinance banks transmuted from community banking and some of them are well over 20 years in existence, any business you are doing consistently for 20 years, you must be a master of your game, you can in no way compare them with these NIRSAL microfinance bank.
"I wish to say categorically that most of the workers of microfinance banks have been certified professionally by the Chartered Institute of Bankers, as a policy from CBN itself, it is a special form of banking.
"We were the first to be certified in 2011, 2012, and a lot of them have been certified now, meaning we are eminently positioned to do the business of micro financing, however, this bank that was just licensed two or three years ago, what experienced do they have.
"Our own members are scattered all over the country, how many branches do they have outside Abuja, what is their staff strength, how would they be able to manage N50 billion meant for everybody."
He was of the view that what happened to anchor borrowers programme may happen again in this new fund released for Covid, when people given loan refuses to pay back.
According to him, "For instance, look at the anchor borrowers fund, you are talking about farmers, who are the farmers banking with?, the microfinance banks. But when that plan was conceived and implemented, microfinance banks was not brought into the equation.
"What is the rate of the default, about 80 percent default, but it is our money that is going down the drain. If the microfinance banks had been involved, I am telling you that default rates would have reduced seriously because we know who were the real farmers because they are banking with us.
"So, please we are appealing to the Central Bank of Nigeria and the powers-that-be to do the right thing and you would see the effect of these disbursements".
Back to News