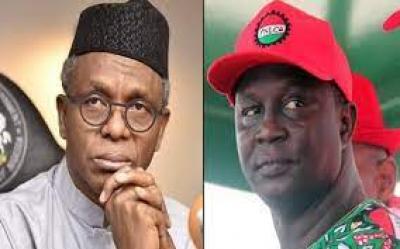 El-rufai to Wabba: I will ensure you don't return to Kaduna again
By:
Thu, 20 May 2021 || Nigeria,
Thursday, 20 May 2021: Governor Nasir el-rufai of Kaduna State has said that he would ensure that the Nigeria Labour Congress, (NLC), President, Comrade Ayuba Wabba, will not come back to the state again to perpetrate economic sabotage.
The governor stated this on Wednesday in his opening remarks at the 23rd annual tax conference with the theme: "Taxation for Economic Recovery: A Necessity for Social Engagement and Economic Sustainability."
He said: "Our position is very clear; the law is very clear. You can walk out; you can go on strike but you cannot shut anything down because public infrastructure is public assets belonging to the federation and Nigerians. Therefore, you have no right to shut it down and if you do, you are liable to be convicted under Miscellaneous Offences Act which attracts 21 years' imprisonment.
"We are going to pursue those that engaged in this sabotage to the full extent of the law, we will break the strike and we will ensure that those involved will be prosecuted. We are going to take action.
"I assure you that we will break this strike, we will deal with the criminals. We will prosecute all those that have broken the law to the fullest extent, and I assure you that they will never come back to Kaduna again by the time we are done with them.
"We are making efforts to provide security for all businesses that wish to remain open; we are not against the right to go on strike.
"walk away from your institutions but allow it to continue without you. You have no right to stop any business from being opened. We are going to take strict measures against people that have tried to do that," he stated.
"Should an employer pick persons of poor education, inadequate skills and qualifications and bad work attitude for employment whether he likes it or not? Our answer in Kaduna State is in the negative.
"We as the employers are in contact with an employee and if he is not up to task, we will let him go and that is included in the contract of our employment," he said.
Back to News