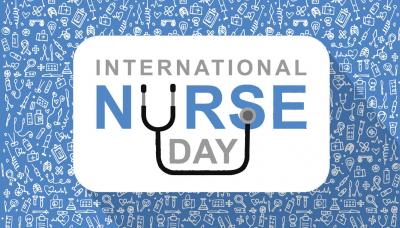 International Nurses Day 2021: A day of homage to sacrificial health workers
By:
Wed, 12 May 2021 || Nigeria,
Wednesday, 12 May 2021: International Nurses Day is an annual observance held on May 12 to highlight the important role nurses play in health care and to commemorate the birth of Florence Nightingale in 1820, the foundational philosopher of modern nursing.
The theme for this year's celebration is Nurses: A Voice to Lead - A vision for future healthcare.
The event established in 1974 by the International Council of Nurses, (ICN), is to celebrate nurses worldwide in relation to the great sacrifice they often pay for the health of all.
Nightingale, apart from being a nurse was also a social reformer and statistician. She became an important figure in nursing in the 1850s during the Crimean War. She shot into prominence for her contributions as a nurse during the Crimean War.
During the war, she was serving as a manager and trainer of nurses and she was instrumental in organising care for wounded soldiers at Constantinople. Due to her efforts, nursing got a favourable reputation and she became an icon of Victorian culture. In 1860, the foundation of modern nursing was laid with the establishment of Nightingale's nursing school at St Thomas Hospital in London.
It was the first secular nursing school in the world which later became part of King's College London. Due to her pioneering efforts, the Nightingale Pledge, which is taken by new nurses, and the Florence Nightingale Medal, which is the highest international recognition for nurses, were named in her honour.
She also made efforts for improving the health condition of all sections of British society, advocated for better hunger relief for India, and helped in abolishing prostitution laws in Britain that were considered harsh for women.
It was only fitting that the International Nurses Day was named after Nightingale.
Each year the ICN commemorates International Nurses Day with the production and distribution of promotional and educational materials. These materials are intended in part to emphasize the dedicated and innovative work performed by nurses worldwide, which is vital not only to the improvement of patient's health but also to the advancement of health care on national and international levels.
The materials also often serve to raise awareness of issues in the nursing profession itself, including the impact of economic factors and ongoing struggles against inadequate pay and work conditions.
Through, awareness and action on such factors, nursing professionals hope to fuel growth and to strengthen nursing schools' resilience to the sporadic and sometimes precipitous declines in enrolment that have characterized admissions patterns in many countries since the mid-20th century.
In 2020 and 2021, we have seen the devastations caused by the Covid-19 pandemic. In almost two years since the pandemic began in 2019, the world has seen over 160 million coronavirus cases and over 3 million deaths worldwide. The pandemic has burdened our health infrastructure unlike ever before.
However, despite the magnitude of the situation, our health workers — doctors, nurses and others — have been at the forefront fighting the virus and saving lives. Nurses are the backbone of our healthcare system who have been risking their lives.
Despite their importance to our health infrastructure, there is an urgent shortage of nurses worldwide despite them constituting more than half of the health workers, according to the World Health Organization.
According to ICN, more than 1.6 million health workers in 34 countries were infected by Covid-19 as of 31st December, 2020.
Amid this backdrop, the International Nurses Day 2021 assumes great significance to express our deep gratitude for nurses and other health workers around the world.
Thank you nurses for saving lives and keeping our loved ones safe!
Back to News