Nigeria :: News
UPDATE: 11 killed soldiers buried at Makurdi military cemetery
Apr 12, 2021
Source: CEOAfrica News: Reported by- Prince Lawrence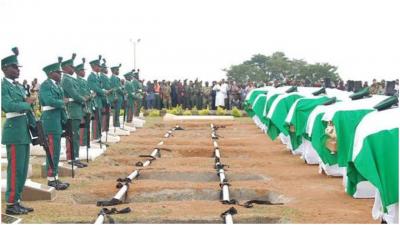 BENUE- Monday, 12th April 2021: The 11 soldiers that were killed in Bonta community of Konshisha Local Government Area of Benue State will be buried today at the military cemetery in Makurdi, the State capital.
It was gathered that the state Governor Samuel Ortom and some top army officials are currently at the cemetery located at Wurukum in Makurdi to witness the burial.
Ortom lamented on the killing of the soldiers and vowed to collaborate with security agencies to restore peace in Konshisha.
He stated that "We condemn the killing of the soldiers who were out to maintain peace. Attack on security men is attack on all. The attack was uncalled for and unwarranted.
"They were out to keep peace and got killed in the process otherwise we all know what soldiers would ordinarily do in such a situation.
"If I said anything that was offensive to the families, I ask for their forgiveness. I earlier said only two soldiers were involved based on the information available to me at that time."
Recall that the Nigerian Army Director of Public Relations, Brig.-Gen. Mohammed Yerima, in a statement on April 9, confirmed the killing of the 11 troops by local militias in Konshisha LGA of the State.
The troops who were on stabilization operation in the state over the communal crisis between Konshisha and the Oju LG were initially declared missing but were later found dead after the deployment of a joint search.
Headlines (Nigeria):
Read our other news items below...