Nigeria :: News
EASTER: FOBTOB President felicitates with Christians, calls on Nigerians to show love
Apr 05, 2021
Source: CEOAfrica News: Reported by- Abraham Adzashoja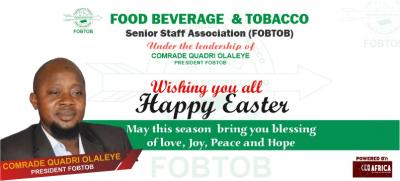 Nigeria-Monday 5, April 2021:The President of The Food, Beverage and Tobacco Senior Staff Association (FOBTOB), Comrade Quadri Olayele, has joined Christians all over the world to celebrate Easter, and called on Nigerians to show love to one another as demonstrated by Christ.
The FOBTOB head, who is also the president of Trade Union Congress (TUC), made this remark on Monday in his Easter release, signed by Comrade Peter Iyeye, acting General Secretary of the association, and made available to CEOAFRICA.
Olayele remarked that God is love and the love was shown to all men.
He stated that "Christ's demonstration of love to mankind has no prejudice or sentiment. He did good to all and sundry, and set the precedence for peace."
The FOBTOB boss noted that "The whole life of Jesus is an epitome of love and peace. This is a good quality we should embrace and express to one another even in trying time like this in Nigeria."
He therefore called on Christian faithfuls to be "a channel of blessing even as we celebrate Easter."
He also urged Nigerians to use this season as to extend gestures of love to everyone around them, as this reflects the nature of Christ and the essence of this occasion.
Headlines (Nigeria):
Read our other news items below...