Nigeria :: News
Ohanaeze Ndigbo cautions against reprisals as killings escalate in south-east
Apr 05, 2021
By: Abara Bleesing Oluchi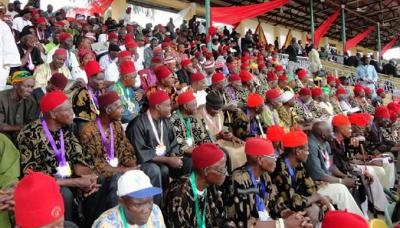 Nigeria-Monday 5, April 2021: The apex Igbo socio-cultural group in Nigeria, Ohanaeze Ndigbo, has cautioned against reprisals following what appears to be targeted killings in parts of the south-east.
In a statement on Monday, the group through factional chairman Chidi Ibeh, called for a "ceasefire" from both the southern and northern groups involved and affected by the killings.
Ibe also said the group has reached out to some northern groups to reassure them of the safety of northerners in the south-east.
"There's no amount of provocative actions sponsored by enemies against the East and North that will pitch the two regions into escalating tensions and war between them again since after 1970," he said.
"The evidence on the ground shows that there are fears amongst both Northern communities residing in the East likewise the Igbos staying in the North, and urgent steps must be taken to prevent further reprisal attacks both in the North and East immediately."
Recent weeks have seen a spike in attacks carried out by unknown gunmen in some states in the south-east.
Some reports have attributed the killings to the eastern security network (ESN) run by the Indigenous People of Biafra (IPOB) while others have mentioned herdsmen as suspects.
Seven northern traders were reportedly killed last week in Njaba LGA in Imo when armed men opened fire on them during two separate attacks.
The attack followed the reported killing of 15 persons in Ishielu LGA of Ebonyi during an attack in which David Umahi, the governor, said herdsmen were complicit.
A day before the Ebonyi killings, six persons were shot dead in Uzo Uwani LGA in Enugu after gunmen opened fire on some residents during a fracas.
Although there is no confirmation the attacks are coordinated, there are fears some of the killings may have been targeted and triggered by previous security incidents.
TheCable could not reach police spokespersons in the respective states except Daniel Ndukwe of the Enugu command, who said last week's attack is still being investigated.
"We had some violence and some lives were lost. No known suspect yet and it is still being investigated," he said during a phone interview.
Headlines (Nigeria):
Read our other news items below...