Nigeria :: News
IAR&T Executive Director Prof. Obatolu preaches hope as world celebrates Easter
Apr 03, 2021
Source: CEOAfrica News: Reported by- Prince Lawrence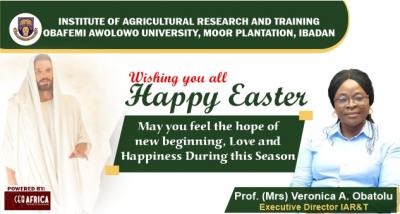 The Executive Director of the Institute of Agricultural Research and Training (IAR&T), Prof. Veronica Adeoti Obatolu has wished the entire Christian faithful all over the world a joyous Easter celebration, advising Nigerians to remain optimistic and resolute in their dream for a better Nigeria.
Prof. Obatolu, in her Easter statement to Christians, which was made available to CEOAFRICA, expressed that though the country is faced with certain challenges such as insurgency, banditry, kidnapping and food crisis, with Nigerians' prayers, the nation will overcome.
She further stated that "Easter preaches hope, peace and love. For this reason, Christians and Nigerians at large should not relent in demonstrating these traits for the nation."
The first female Executive Director of IAR&T implored Christians to bring hope to the hopeless by sharing what they have, as this embodies the whole essence of the season.
She said everyone deserves to be happy especially at this Easter season.
Headlines (Nigeria):
Read our other news items below...