Nigeria :: News
Silence of Southwest governors on insecurity isn't sign of cowardice, compromise –Fayemi
Mar 17, 2021
Source: CEOAfrica News: Reported by- Prince Lawrence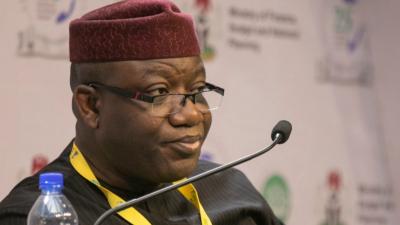 Ekiti State Governor, Kayode Fayemi, has said the southwest governors are not cowards merely because they do not talk about the insecurity facing the region.
He disclosed that that Gov. Seyi Makinde of Oyo State, Gov. Dapo Abiodun of Ogun state, Gov. Babajide Sanwo-Olu of Lagos state and Gov. Gboyega Oyetola of Osun state have chosen Gov. Rotimi Akeredolu of Ondo state, who is the Chairman of the South-West Governors' Forum, to speak on their behalf.
Governor Fayemi said this on Tuesday during the visit of Aare Ona Kakanfo of Yorubaland, Iba Gani Adams, in Ado-Ekiti.
Issues affecting security and economic development of the Southwest and the country in general were discussed at the meeting.
The governor's Chief Press Secretary, Yinka Oyebode, in a statement titled, 'Fayemi, Gani Adams Meet In Ekiti', said Fayemi appreciated Adams for his concern for peace, security and stability of the country, and assured him that peace will reign in the region and Nigeria in general.
"Governor Akeredolu speaks on our behalf. This is the reason you may not see other governors from the Southwest speaking on current security issues. It is not out of cowardice or compromise, it is simply because we have chosen a chairman who speaks for us," Oyebode quoted Fayemi as saying.
Headlines (Nigeria):
Read our other news items below...