Nigeria   ::   News
Nigerians react over Shekau taking responsibility of bomb explosion in Maiduguri
Feb 26, 2021
Source: CEOAfrica News: Reported by- Prince Lawrence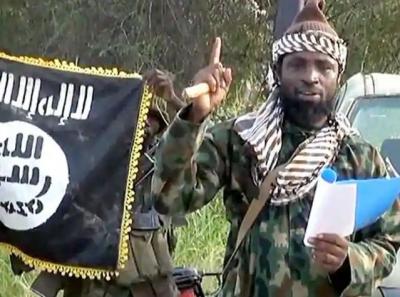 Nigerians have reacted over the newly released audio of the leader of the Jama'atu Ahlussunnah Lidda'awati Wal Jihad faction of Boko Haram, Abubakar Shekau, taking responsibility for the bomb explosions that rocked Maiduguri, the capital of Borno State on Tuesday, February 23.
It was gathered that the explosions led to the death of over 10 persons and injured more than 47 across the town.
The Boko Haram leader had also, in the audio, denied that the farm Nigeria troops destroyed does not belong to him.
Recall that Troops of the Nigerian Army recently claimed to take over a farmland situated inside Sambisa forest which they alleged was owned by Shekau.
In a trending video on social media, the soldiers were also seen taunting the Boko Haram leader, asking him to come out to face them.
"Shekau where are you? See us on Shekau's farm inside Sambisa. Shekau king of noise-making where are you? Come out now and see if we will not waste you.
"This is Shekau's farm inside Sambisa. Villagers take as much of the products as you can after all it is yours.
"Shekau, see us on your farm, we are going to have our Juma'at prayers on your farm," one of the troops said.
However in a five-minute and thirty-two seconds-long audio released on Thursday, Shekau said he has no farm in Sambisa forest.
These opposing claims have got Nigerians talking on social media, mostly on Twitter.
Some Nigerians have expressed doubts in the Nigerian Army, since their claims of defeating the Boko Haram group and taking over the territories possessed by the group, are being rebuffed by these same terrorists.
The question asked now is "Who is deceiving who- the Nigerian Army or the Shekau, the terrorist leader?
Another question to ask is "Terrorism, another mode of lucrative business in Nigeria?
See reactions below:
@AmECSTATIC: "If we can have more than 6 kidnappings in a week. And at the end of each rescue, the Govt pays more than half a billion naira, & sometimes millions of naira.
Then, I wonder how much will be spent on kidnapping in a month or even a year.
Notorious Boko Haram commander, Abubakar Shekau, has claimed responsibility for the attack in Maiduguri on Tuesday, February 23."
@sagamu1st: "Federal government keep lying to us that they've killed this man 3years ago,yet he never stop killing and bombing in the north... Abi this man called Shekau Na ghost Ghost
Lai Mohammed and Muhammadu Buhari once had direct access to Shekau, to be precise Buhari was named the Chief Negotiator to Boko Haram, so what happened?"
@firstladyship: "Peace is expensive, but you don't negotiate with Shekau nor bandits. America understands this. Does Nigeria? Each time you open negotiations with criminals, you invite trouble, I mean big trouble. Sheikh Gumi is playing with fire. Any nation that buys peace is indebted to war."
"While Shekau's Boko Haram celebrates death of more than 36,000 people & displacement more than 2 million people, Nigerian Army celebrates looting of Shekau's farm in Sambisa. Just #occupyNigeria Man facepalming please"
  Headlines (Nigeria):
Read our other news items below...