Nigeria   ::   News
Put in your best to fight against terrorism, banditry –CAN charges new service chiefs
Jan 27, 2021
Source: CEOAfrica News: Reported by- Prince Lawrence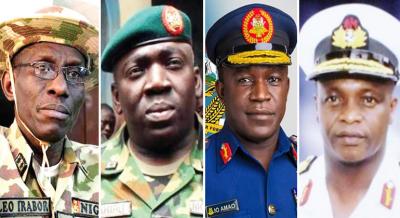 The Christian Association of Nigeria (CAN) has charged the new service chiefs to be diligent and ensure they put in their best in combating terrorism, banditry and other criminal activities in the country.
CAN, through its General Secretary, Joseph Daramola, on Wednesday gave the charge, and advised the newly appointed service chief to build on their predecessors' weaknesses to make Nigeria a safer place.
Daramola said "The new service chiefs should build on the weaknesses of those that left. They should map out their strategies on how to gain the hearts of Nigerians and assure them that they security is sacrosanct in the polity."
He stressed that "The weaknesses of their predecessors are what Nigerians are clamouring about –insecurity, people are being kidnapped in broad daylight and at night, people are being slaughtered like goats. Who are those slaughtering them?
"We have gruesome videos that are not photo-tricked. The service chiefs should look at these things and proffer solutions.
"They should be able to stop and arrest the bandits, kidnappers, terrorists and herdsmen going about with sophisticated weapons."
The appointment of the four new service chiefs on Tuesday came in after several demands by Nigerians for fresh hands to pilot the country's anti-terrorism war especially against Boko Haram in the North-East.
The move of the President has both been criticised and commended.
The new service chiefs are Major-General Leo Irabor as Chief of Defence Staff; Major-General Ibrahim Attahiru as Chief of Army Staff; Rear Admiral A.Z Gambo as Chief of Naval Staff; and Air-Vice Marshal I.O Amao as Chief of Air Staff.
The former service chiefs include General Abayomi Gabriel Olonisakin (Chief of Defence Staff); Lt. Gen. Tukur Buratai (Chief of Army Staff); Vice Admiral Ibok Ibas (Chief of Naval Staff) and Air Marshal Sadique Abubakar (Chief of Air Staff).
Many Nigerians have, however, doubted the competence of the newly appointed Chief of Army Staff, Major-General Ibrahim Attahiru.
A former Theatre Commander of operation Lafiya Dole, Attahiru had been removed by the Nigerian Army High Command for failing to stop Boko Haram in 2017.
The then Chief of Army Staff, Lt.Gen Tukur Buratai, had given Attahiru 40 days to capture Boko Haram leader, Abubakar Shekau, dead or alive. Attahiru's failure to live up to expectations saw him being removed without any posting.
But Daramola said, "If they asked him (Attahiru) to capture Shekau and they sent him on that mission, was he given the right tools? If he was, that means, on his own part, he failed. But if he was not provided with the right tools and you ask him to go to the farm without implements, how would he produce results?"
The CAN top official said it was too early to rate the competence of the Attahiru and the other new service chiefs but charged them to be diligent and give their all in the fight against terrorism and banditry
  Headlines (Nigeria):
Read our other news items below...