Nigeria   ::   News
Democrat Warnock taking over US Senate
Jan 06, 2021
Source: CEOAFRICA NEWS: Reported by Prince Lawrence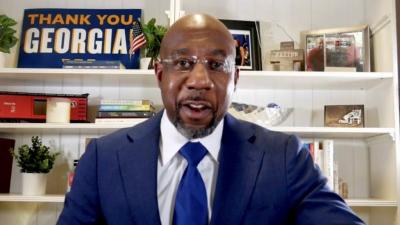 USA
Democrat Raphael Warnock has been projected to unseat Republican kelly Loeffler in the Georgia senate runoff election.
US TV Networks and the Associated Press News agency projected that the result so far is "a blow for the outgoing Republican President Donald Trump."
It is also stated that the control of the US Senate in the first two years of President-elect Joe Biden's administration will be determined by outcome of the second runoff election.
Mr Warnock is said to be the first black senator for the state of Georgia.
Warnock, already admitting victory, paid tribute to his mother, Verlene. "The other day - because this is America - the 82-year-old hands that used to pick somebody else's cotton went to the polls and picked her youngest son to be a United States senator," he said.
In his address, he added that "To everyone out there struggling today, whether you voted for me or not, I hear you, I see you and every day I'm in the United States Senate I will fight for you."
  Headlines (Nigeria):
Read our other news items below...