Nigeria :: News
Update: Submerged bus pulled out from river in Ebonyi (Photos & video)
Sep 19, 2020
By: Abara Bleesing Oluchi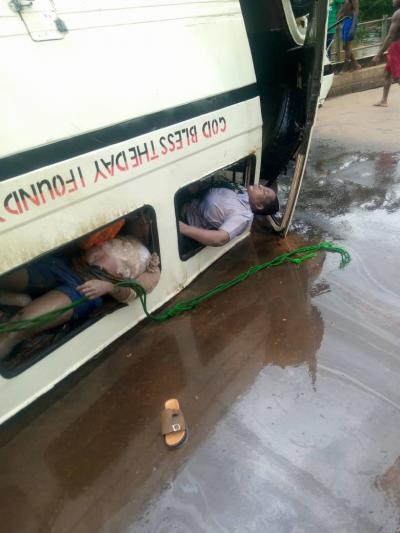 The 608 bus conveying church members returning from a burial ceremony in Edda, Afikpo south LGA, Ebonyi State which accidentally fell into a river in Akaeze when hit by a trailer, has been recovered with all the passengers feared dead.
CEOAFRICA had earlier reported that some church members from Enugu were returning from a burial in Edda, Afikpo south LGA, Ebonyi State, and were all in convoy of 2 numbers of 608 buses, mini buses and small cars.
One of the 608 buses that wanted to overtake an ITC bus at the top of Akaezeukwu bridge in Akaeze, Ebonyi State without noticing an oncoming Trailer but before the 608 driver realized the Trailer, it was already too late as the Trailer hit the bus and the entire passengers plunged into the River.
See photos and video of the recovered bus:
Headlines (Nigeria):
Read our other news items below...