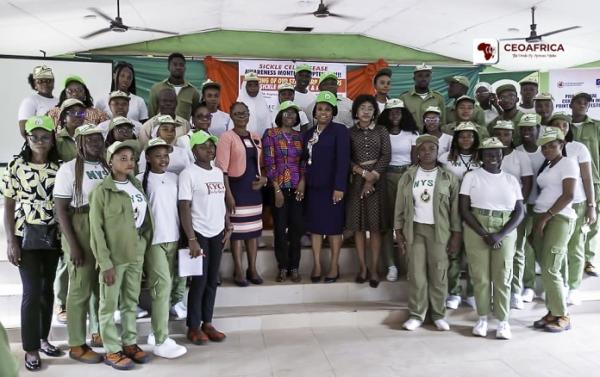 SCHAF Trains Youth Corps Members on Sickle Cell Advocacy
From: CEOAFRICA Reporter
Tue, 26 Sep 2023 || Nigeria,
Youths have been urged to know their genotype and blood group correctly and create public awareness, to reduce the prevalence of sickle cell disease in Nigeria., Professor (Mrs) Adeyinka Falusi, a seasoned haematologist, with a focus on Genetics and the Founder & Trustee of Sickle Cell Hope Alive Foundation (SCHAF) gave this charge while delivering her speech yesterday in Ibadan during a training on Sickle Cell Disorder to corps members in Oyo State. The Training was organised by The Sickle Cell Hope Alive Foundation (SCHAF). Professor Falusi won the L'Oréal-UNESCO (FWIS) Laureate Africa award in 2001 for her research on hereditary blood disorders. Speaking on her passion for sickle cell awareness, management and eradication during the training session, she stated that the effort for advocacy for eradication of sickle cell disease in Nigeria is God's given opportunity to play a part to positively impact humanity and give back to the society.
Speaking further, she said the youths are imbued to be potential vehicles of change the country so desperately needs. Professor Falusi said that Nigeria has the worst type of sickle cell disease worldwide, due to several reasons including the haplotype ( genes surrounding the S gene), malaria belt, poverty and a lack of a National plan for the eradication of SCD in spite of the country having the highest population of SCD globally.
SCHAF is making efforts at promoting early genotype testing (New Born Screening -NBS) and teenage testing to help curb the prevalence of sickle cell disease in the country.
She urged youths to be vocal and deliberate in sharing the knowledge gained at the training with others in their families and communities to dispel myths and shun stigmatization of Warriors. Speaking further, Professor Falusi stated the need for the public to be educated on dangers posed by misdiagnosis, which is a major challenge in the fight against sickle cell disease. This, she said, can be done by prioritizing and educating the public on the right tools for accurate sickle cell diagnosis and management.
Speaking on how the country can reduce the burden of sickle cell disease, she showcased the example of Bahrain, making significant efforts at reducing the prevalence of Sickle cell disease from 2.1% to 0.4% within a 30 year period in their country, a feat that Nigeria can also achieve through collaboration and responsibility sharing, not only in the management but in reducing SCD prevalence.
While speaking on the clinical complications experienced by sickle cell patients which include: pain crises, anaemia, gnamopathy, stroke, leg ulcers, bone and end organ damage, she reiterated that the diseasee can be totally cured through bone marrow or gene transplantation.
Professor Falusi advised Government to introduce genotyping and sickle cell awareness through learning models in the schools curriculum. She added that the government can map out a plan to reduce sickle cell disease in the country through legislation on New Born screening and teenage diagnosis of SCD to aid early detection, reduce infection in children, while at the same time, provide basic primary and secondary health infrastructure, where accurate diagnosis can be carried out, thereby making testing more accessible to the public.
Government should also set up subsidized bone marrow transplant centres with the Federal govt insurance packages to support the efforts of parents capable of paying the high cost of transplants.
Speaking on misdiagnosis of genotype, Falusi said the SCHAF is doing a lot, especially in the areas of screening, care and advocacy. SCHAF has already moved ahead of using the cellulose acetate test, which is prone to several human errors. HemotypeSC Point-of-care Testing (POCTest) is about 99.9% accurate, while the controversial cases are confirmed using the High Performance Liquid Chromatography (HPLC).
Also speaking at the event, first femaile professor of pharmacy, former Dean, Faculty of Pharmacy, University of Ibadan and current Vice Chancellor of Chrisland University, Abeokuta, a Board member of SCHAF, Professor Chinedu Peace Babalola (Mrs) said the convener, Professor Adeyinka Falusi has been a strong force in the fight against sickle cell disease in Nigeria, through extensive research and advocacy. Professor Babalola said sickle cell disease is prevalent in Africa, and at least one person in every household in Africa knows someone who has sickle cell disease. According to her, the basic weapon for fighting the disease is awareness and advocacy, which entails knowing one's genotype (KYG) and going back to one's community to sensitize the people on the impact such knowledge plays in the control of the prevalence and the spread of sickle cell disease.
She further stated that parents, children and caregivers go through physical, emotional and psychological pain in the course of managing the disease, which makes curbing its prevalence and managing it, a matter of utmost importance.
Dr Kotila presented the Economic impact of SCD on behalf of Dr Tayo Adeyemo. Dr Salawu of Environmental Health and Medical Statistics, UCH, urged Corp members to Know their Genotypes and show empathy to people living with SCD while completely avoiding stigmatization.
Another speaker at the event, Pharmacist Akindele Opeyemi of Global Institute of Canada spoke on the Hemotype SC Point-Of-Care Test, which, he explained, can be accessed at healthcare service points, Pharmacy stores and outside the traditional laboratory setting on Nigeria soon. He added that Point-of-care testing guarantees a wider essential diagnostics inclusion. Speaking on the ease of carrying out the POCT, Pharmacist Opeyemi said it doesn't require any complicated equipment or tool but clean water. The POCT promotes early diagnosis and quick accurate results at any location. He also stated that the POCT allows for digitization which removes the need for carrying cards around. Sickle status can be verified at request, within a 15mins period with no physical exertion.
One of the Healthcare practitioners present at the event, Dr. Shonubi stated that the old method of cellulose acetate used to distinguish the S genotype from C has been found to be grossly inadequate, hence the urgent need for adopting the new POCT, which, accorrding to her, has been proven to be highly accurate with a 100% accuracy rate.
Professor Soyannwo, a renowned Professor of Anaesthesia and Head of Palliative Care Nigeria, was also present at the event to harmonise the role of palliative care in sickle cell patients. Professor Soyannwo while admonishing the participants took them down the memory lane, highlighting the motto of the two secondary schools she attended while growing up namely: Mayflower Secondary School, and Queens College, Yaba, Lagos whose motto is 'Knowledge is power', and 'Pass on the touch', respectively. To reiterate the importance of not only acquiring knowledge on SCD but also sharing knowledge.
She said Warriors, as she called sickle cell patients, need compassion, quality care, and empathy.
As part of the Foundation's commitment to sickle cell awareness, 20 corps members received free POCT for blood Genotype testing at the training site.
Speaking with CEOAFRICA after the session, the corps members thanked the organisers for the training they had received, stating that they are more informed about sickle cell disease and the importance of knowing one's genotype. While promising to share such information with members of their respective communities, about 25 of the 250 corpers participating volunteered to join the SCHAF team in pursuing her goal of actively participating in her awareness efforts henceforth. A number of the Oyo State NYSC management team were present to Chair and to grace the hugely impactful event.
Back to News