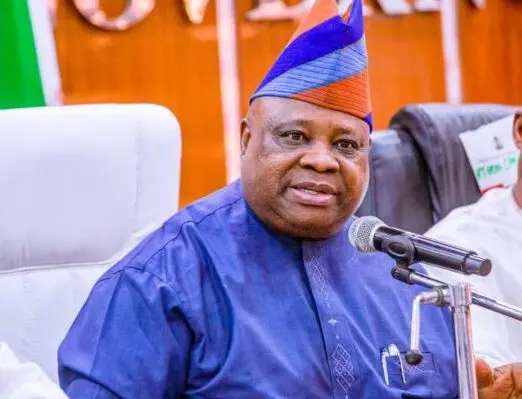 Averted plane crash: I suspect sabotage, says Gov Adeleke
By: News Editor
Sun, 17 Sep 2023 || Nigeria,
The Osun State Governor His Excellency, Mr Ademola Adeleke says he suspects sabotage in the near air mishap involving a private jet he was to fly to Abuja from Lagos.
CEOAFRICA had reported how the trip the governor was to make on the aircraft of Dr Deji Adeleke, his elder brother, was aborted after the pilot discovered fault in the engine a minute just as it began taxing.
According to CEOAFRICA report, the incident occurred at the domestic wing of Murtala Mohammed International Airport (MMIA) in Lagos State.
Reacting in a statement issued by his spokesperson, Olawale Rasheed, the governor confirmed that the incident happened.
"The highly technically equipped aircraft was well maintained with the best technical crew and was never an unused platform where birds could build nests."
"Contrary to the claim by the hangar owner that birds' nests caused the incident, birds' nests are made with straws not binding wires as in this case.
"According to him, the near fatal incident was averted shortly after boarding and less than two minutes after the commencement of taxing on the tarmac.
"An early warning noise from the engines immediately prompted the pilots to direct the evacuation of the passengers. Everything happened within five minutes.
"Early reports from the internal investigation indicated sabotage. But the authorities, locally and internationally, are still investigating the incident.
"We, however, want to assure the public that Governor Adeleke and his aides are safe and there was no injury or any outward explosion on the plane."
In a chat with reporter , Director-General, Civil Aviation of Nigeria, Capt. Musa Nuhu, said investigation was ongoing.
The DG also warned against sensationalizing the incident, disclosing that a mandatory occurrence report was filed to the NCAA a day after the incident as required by the regulations.
The DGC said what happened was a normal procedure in aviation which any pilot would do after noticing a snag in the jet.
According to him, the NCAA after receiving the MOR immediately sent its team to assess the level of damage to the engine.
He said, "We received a report on it, mandatory occurrence report as required by the regulations a day after the incident. What happened was a normal procedure. I am a pilot for 40 years,
This is a normal procedure that we do all the time when you are about to take off and you abandon the takeoff, this is a normal training procedure we do all the time. Honestly this sensationalism does not help anybody may because of the personality involved."
Back to News