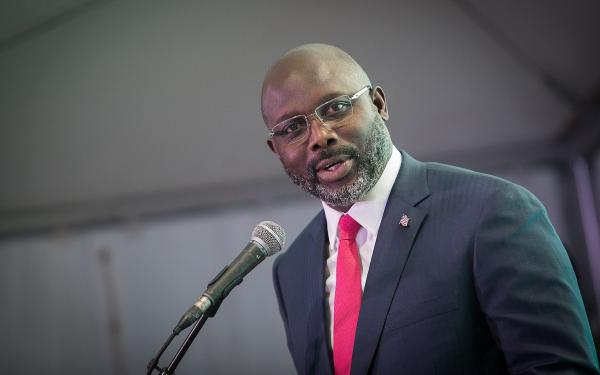 Liberia: President George Weah starts his re-election campaign
By: Abara Blessing Oluchi
Fri, 8 Sep 2023 || Liberia,
Liberian President George Weah, who is standing for re-election, launched his campaign for the 10 October presidential election in Monrovia on Thursday in front of several thousand people, who will also be taking part in parliamentary elections, an AFP journalist noted.
Wearing a blue boubou and cap, President Weah, 56, was cheered in a Monrovia stadium by his supporters dressed in T-shirts bearing his image and that of his running mate Jewel Howard-Taylor, ex-wife of former president and warlord Charles Taylor, sentenced to 50 years in prison for crimes against humanity and war crimes committed in neighbouring Sierra Leone.
"I am extremely pleased that you have placed your trust in me to lead this country for the past six years. I owe my ascension to the presidency to the hard work and perseverance of my supporters," said Mr Weah.
"During our first term, we laid the foundations for peace, freedom of expression, macro-economic stability and the restoration of confidence in the national education system. I can guarantee that the years 2024 and beyond will be better for all Liberians", he said.
The supporters were also wearing red caps, the colour of the Coalition for Democratic Change (CDC), the party of Mr Weah, a former international football star who has turned to politics. He was elected president in 2017 and took office in 2018 for a six-year term.
In the crowd, Victoria Kpahn, 19, was preparing to vote for the first time: between two slogans shouted in praise of George Weah, she told AFP that she was sure of a "victory in the first round".The campaign officially opened on 5 August and is due to close at midnight on 8 October.
President Weah faces 19 rivals. Ellen Johnson Sirleaf's former vice-president Joseph Boakai (2006-2018), businessman and party leader Alexander Cummings and human rights lawyer Taiwan Gongloe are among his main rivals.
The National Elections Commission has accredited 46 parties. More than 2.4 million voters are registered for the presidential and legislative elections to choose 73 members of parliament and 15 senators out of the country's 30 senators.
The election of Mr Weah in 2017 raised huge hopes in a country ravaged by civil wars between 1989 and 2003, and ravaged by the Ebola epidemic of 2014-2016. The country of around five million people was only just recovering when it was hit by the Covid-19 pandemic and then by the consequences of the war in Ukraine.
Around half of Liberians live on less than $1.90 a day, according to the World Bank.
Mr Weah came to the presidency promising to create jobs and invest in education. His critics accuse him of failing to keep his promises.
Back to News