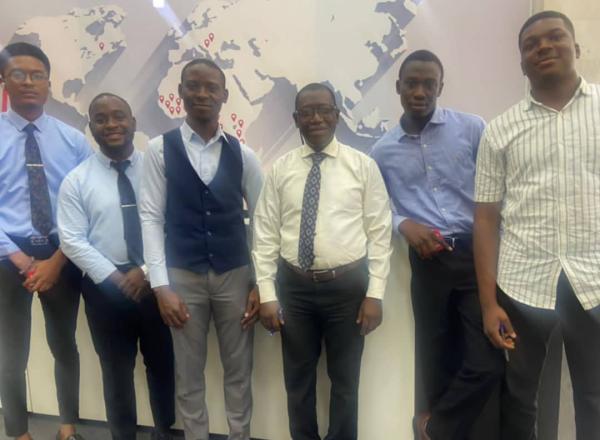 Chrisland University Official Inspections of Students on SIWES Programme in Lagos
Chrisland University makes official inspections of Students on SIWES programme in Lagos.
By: News Editor
Mon, 28 Aug 2023 || Nigeria,
As part of its academic training scheme to expose students to the public and industrial sector, Chrisland University has visited her students doing Students Industrial Work Experience Scheme (SIWES), in various places in Lagos to follow up on their training programme.
The inspection team led by Dr Kunle Alaye made the visit unannounced to the respective companies to get first hand information about their students performance. Students in relevant science courses embark on SIWES exercise at 200 and 300 Levels; and they are expected to have a total duration of six months training as SIWES duration.
Some of the hosts companies lauded Chrisland University for making out time to know how their students are fairing.
According to them, not all schools conduct such inspections on their students. They all appreciated the extra efforts of Chrisland University, in building Nigeria's education and intellectual bank.
One of the supervisors, Mr Edward Bananda of UBA Headquarters at Marina, testified to the very fantastic performance and assiduous nature of Clinton Nkamigbo, 300 Level Computer Science. He said, he wishes the internship was extended by another 6 months to make it a year so as to have more of him (Clinton) around. Mr Bananda said Clinton has proven to the world that Chrisland University is one of the best Nigerian Universities that have demonstrated dedications to enhance the standard of education and learning path in Africa.
Mrs Nkem, of Sterling Bank, Marina, Lagos, equally lauded Chrisland University for such initiative and requested the university to send more of Samuel Adeyeye, 300 level student, to their organisation in future. Nkem described Samuel as very resourceful, creative and intelligent. She said, she will be anxiously looking forward to have more students on SIWES exercise to work with her in Sterling Bank in future date.
Other hosts companies commended Chrisland University and made their very wonderful remarks about all other SIWES students that worked with them.
The Students Industrial Work Experience Scheme (SIWES) is a skills training programme designed to expose and prepare students of universities and other tertiary institutions for the Industrial Work situation they are likely to meet after graduation.
Back to News