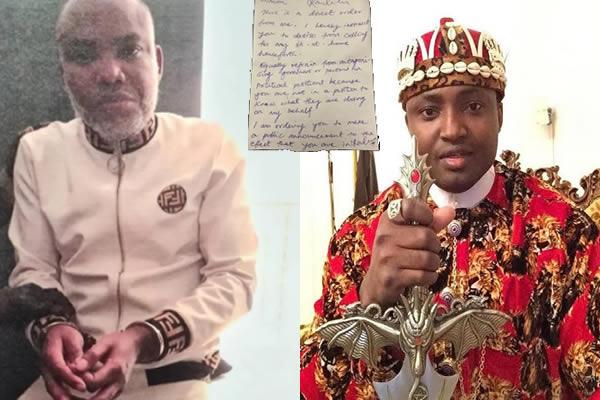 "Non-negotiable"- Simon Ekpa insists on 2 week sit-at-home despite letter from Nnamdi Kanu
By: Abara Blessing Oluchi
Mon, 31 Jul 2023 || Nigeria,
The leader of the Biafra Government In Exile(BGIE) and self-acclaimed Prime Minister of "Biafra Republic" Simon Ekpa as recently viewed in a viral video has snubbed the leader of the Indigenous People of Biafra(IPOB), Mazi Nnamdi Kanu's request for the two weeks long sit-at-home he had directed be suspended.
Kanu through a handwritten letter he made available through his lawyers in the Department of State Security (DSS) custody had implored Ekpa to suspend all action concerning the sit-at-home, affirming in the letter that it would only enslave and cause more hardship to Ndigbo.
But Ekpa in the latest video he released did not believe the letter was written at the instance of Kanu, attributing it to money mongers.
He said "I want to make it clear that the coming two weeks sit-at-home is not negotiable, for those who have collected money and started flying fake letters from Mazi Nnamdi Kanu that the sit-at-home we have embarked on and will embark on in the future has five points agenda.
Ekpa however going ahead to list reasons for his sit-at-home order said, "One is for the immediate release of Nnamdi Kanu from the DSS and two for preparation of Biafra's self referendum. To that effect, we are going to have the first Biafra self-convention coming up in October in Finland.
Thirdly, to further inform the world of the readiness of Biafra people to take their own futures into their own hands, by sitting at home we create awareness, by sitting at home, we crash the economy of Nigeria.
"Four is to demonstrate that the Biafra Government In Exile(BGIE) is in charge and showcase it continues to enjoy the 99 per cent loyalty of Biafrans in Biafra land, just like what the senate president said the other day even though he misrepresented me, he called me the real governor of the South East, I'm not the governor of the South East, I'm the Prime Minister of the Biafra Republic.
"Fifth, to invalidate those who call themselves elected officials, those people speaking nonsense at the National Assembly, this sit-at-home will tell them we're ready to leave Nigeria for a better future. Don't mind those people telling you about the sit-at-home, it's going to enter checkup from Monday," Ekpa said.
Back to News