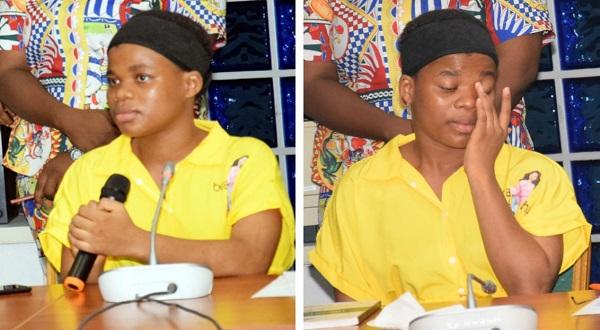 "I humbly seek your forgiveness for the mistake I made,"- Mmesoma begs JAMB during reps appearance
By: Abara Blessing Oluchi
Thu, 20 Jul 2023 || Nigeria,
Mmesoma Ejikeme, the candidate at the heart of a Unified Tertiary Matriculation Examination (UTME) results forgery debacle, has written to the Joint Admission and Matriculation Board (JAMB) asking for leniency.
The 19-year-old on Wednesday read a letter of apology before the House of Representatives ad hoc committee on the manipulation in Abuja.
Mmesoma had claimed a score of 362 as opposed to her official score of 249, according to JAMB.
In one viral video, she brandished the result which she said had been downloaded from the official JAMB portal.
The Board however presented evidence indicating that Mmesoma had requested her result via its automated SMS-based service, which repeatedly responded to her requests with the 249 score.
Mmesoma told the lower chamber that said she had admitted what she did was wrong, adding that it was the reason she came to present her 'Letter of Profound Apology'.
"I humbly seek your forgiveness for the mistake I made. I sincerely agree that I got the JAMB result from another portal. In the course of this, I lambasted JAMB; I apologise," she said.
The candidate, who has since had her result withdrawn and earned a three-year ban by the exam body, confessed that ignorance played a significant role in her action.
"Words cannot describe the depth of pain in my heart. This is the first time I will be doing this, I have never engaged in falsification or any misdemeanour," she said, adding that it was not in her character to manipulate results or bring public institutions to ridicule.
Promising to have embraced genuine repentance, Mmesoma told the lawmakers that she would willingly accept the recommendation of the ad hoc committee as she attempts to rectify her mistake and become a better person.
"I want you to temper justice with mercy," she pleaded.
The JAMB Registrar, Prof Is-haq Oloyede, said Mmesoma manipulated her result aided by the centre where she wrote the exam, adding that the centre had been banned for aiding and abetting fraud.
According to him, eight centres in Anambra State are currently under investigation over Mmesoma's case. He insisted that contrary to insinuations, there was no loophole in JAMB.
Oloyede called on the public to be careful in making unfounded statements and have confidence in public institutions, while commending JAMB in its processes and procedures.
According to him, JAMB has introduced innovations that will help to reduce human interference in its operational processes, thereby building confidence in the public.
He said, "Mmesoma's case was (that of) an amateur, there was one falsification by a candidate that I almost went mad."
The Chairman of the Committee, Sada Soli, urged Mmesoma to restitute her ways and not allow such misconduct again.
"You are one of the high scorers, don't ever think of doing bad things to achieve anything ever again," he said.
Back to News