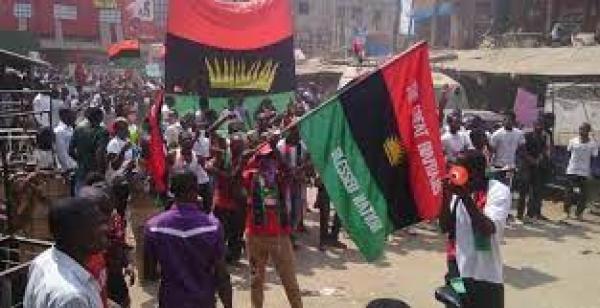 You're a joker for declaring two-week sit-at-home – IPOB slams Ekpa
By: Abara Blessing Oluchi
Wed, 12 Jul 2023 || Nigeria,
Simon Ekpa has been slammed by the Indigenous People of Biafra (IPOB) for declaring a two-week sit-at-home protest in the South East.
Reacting on Tuesday, IPOB said Ekpa is a joker.
According to IPOB spokesman, Emma Powerful, IPOB, Ekpa carefully sat indoors during the rally held in front of his house in Lahti, Finland but incensed South East youths to observe sit-at-home for no reason.
Powerful, therefore, warned ignorant followers of Ekpa to retrace their steps before it is too late, adding that anyone found disturbing the peace of the South East will be severely dealt with.
He said: "The rally in Finland was organized in line with IPOB's global sensitization agenda on the plight of Biafrans and illegal incarceration of our leader, Mazi Nnamdi Kanu. IPOB hardcore were at Lahti, Finland, on July 7, 2023, to continue the sensitization rally around Europe.
"The organizers, all hardcore, took time off their busy schedule to attend the Finland rally as the imposter went into hiding at the news that IPOB was in town.
"It is unfortunate that during the epic event at Lahti, Finland, the self-acclaimed Biafra leader was nowhere to be found. Finnish people wondered why he didn't show up to address his people but chose to hide, even when the rally took place in front of his apartment building.
"We thought he dared IPOB to come and protest in Finland, but at last, he was nowhere to be found. How can a true IPOB member hide from comrades? We are using this medium to warn ignorant followers of this scammer to retrace their steps before it is too late.
"It is obvious that there is nothing in the fish brain. The message has been passed to the Finnish people so that they will not be deceived.
"Biafra agitation is not for criminals and scammers who were paid by our enemies to create insecurity and criminality just to blackmail IPOB and Mazi Nnamdi Kanu, and more to make Biafra agitation unappealing to our people.
"Those contracted and backed by the compromised Nigeria security and government to enforce a non-existing sit-at-home will be held accountable someday.''
Back to News